Nobody to Watch Over Me 誰も守ってくれない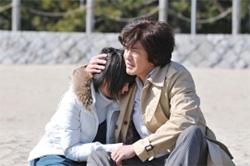 A drama depicting one of the worrying aspects of modern-day society. The film portrays the distress of a family whose son is involved in a crime and the conflict surrounding a detective sent to shelter them from public hostility.
The Funamura family attracts the interest of the mass media after their first son commits a murder. The detective, Katsuura, takes on the role of protecting Saori, the family's bewildered daughter, who finds herself targeted by trolls on the internet. The media's relentless attacks on them and the escalation of slanderous comments by people acting under the cloak of anonymity gradually drive Katsuura and Saori into a corner. They embark on a deadly game of hide and seek. Can they ever be freed from the malicious attentions of Internet addicts?
Date: 17 May 2018, 6.30pm
Venue: The Embassy of Japan in the UK, 101 – 104 Piccadilly, London W1J 7JT
Web: http://www.uk.emb-japan.go.jp/itpr_en/films_booking.html
Organiser: The Embassy of Japan in the UK, the Japan Foundation London