Noh Hamlet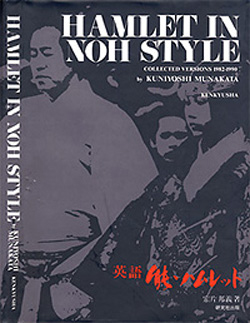 A traditional Japanese Noh style Hamlet, with a lecture in English and Japanese, by MUNAKATA Ueda Kuniyoshi, Professor Emeritus, Shizuoka National University.
Munakata debuted by "Noh Hamlet" at Harvard University, while a Fulbright scholar there in 1973-75. Back in Japan, he completed the world's first Shakespearean Noh play, Noh Hamlet in English, performing himself as shite (main role) in 1982 in Tokyo. This bold experiment was highly acclaimed and was repeated at Japan's National Noh Theatre in 1985. Then he adapted Othello, Macbeth, and King Lear into Noh, playing the title role himself.
His Noh plays are true to Noh founder Zeami's ideas and techniques, respecting spirituality, simplicity, the influence of Zen, and aiming at happiness of all people. His works were reviewed as "dramatic expression of Zen" and "holistic."
After the performance, an introductory lecture to Noh, questions & answers, and a short Noh song workshop will follow.
Date: 19 December 2012, 8:30pm
Venue: Bowdon Parish Centre, Stamford Road, Bowdon WA14 2TR
Email: yuko@jsnw.org.uk
Web: http://www.jsnw.org.uk
Organiser: Japan Society North West