Noh time like the present… A Tribute to Akira Matsui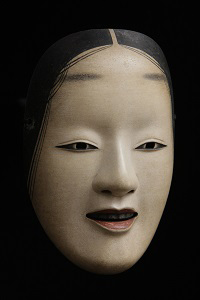 These two performances at LSO St Luke's are a rare opportunity to experience the 650-year-old art of noh, and the genius of classical noh performer Akira Matsui, now age 70, in a bold collaboration with western opera, theatre, ballet, music and poetry. We are particularly pleased that this special programme will include 'Rockaby' by Samuel Beckett.
Noh is at its best when it is a total theatre of experience: immersive by intention, multi-disciplinary by design. Akira Matsui, is a unique traditional Japanese noh artist, classically trained from childhood and a long-time performer within the noh world's Kita School. He is recognised for his contribution to the international understanding of noh, numerous intercultural projects, and his performances across the world.
The programme will comprise four pieces. The first is devoted to 'Rockaby' by Samuel Beckett, a poetic but bleak depiction of a person trapped in the inertia of a life reduced to nothing more than the to-ing and fro-ing of a gently rocking chair – and also demonstrates the dramatic quality of noh in relation to this western theatre piece performed by Akira Matsui and actor Hugh Quarshie. The second piece treats us to the classical music of the hayashi instruments of noh: the dynamic resonances of the kotsuzumi (played by Kayu Omura) and the otsuzumi (Eitaro Okura) and their distinctive drums calls working in harmony with the nohkan flute (Richard Emmert), with its delicate, and at times, intense melodies.
In the third, East meets West again, this time 'Noh meets Bach' to demonstrate the vocal qualities of noh when extracts from three traditional noh plays are sung by Akira Matsui accompanied by Lucia Capellaro playing three movements from Bach's Unaccompanied Cello Suite No 1.
After the interval, the fourth and final piece presents something new. Articulating the principles he has learned from decades immersed in noh performance, Emmert has composed and directs Jannette Cheong's noh-structured poetic text, Opposites-InVerse. This new conceptual piece, illustrates aspects of life in a three-part work which draws on philosophy, science, and the art of noh. It brings together noh movement and western contemporary ballet (Akira Matsui with contemporary ballet dancer and choreographer, Peter Leung), with noh music and opera vocals (sung by Piran Legg and Meili Li) and breathes fresh new life into the spirit of this classical art.
Date: 24 – 25 February 2017, 7pm start
Venue: LSO St Luke's, 161 Old Street, London, EC1V 9NG
Web: http://lso.co.uk/whats-on/icalrepeat.detail/2017/02/24/691/-/noh-time-like-the-present.html
Organiser: Unanico Group, Jannette Cheong & Richard Emmert