Noh Training Project at Reading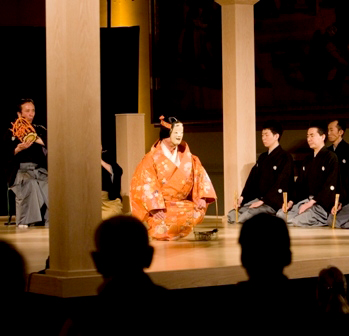 Date: 22 August – 2 September 2011
Venue: Department of Film, Theatre & Television, University of Reading, Whiteknights, Reading, RG6 6UR
Tel: 0118 378 8878
Email: ashley.thorpe@reading.ac.uk
Web: http://www.reading.ac.uk/ftt/research/ftt-NohTrainingProject.aspx
Organiser: Department of Film, Theatre & Television, University of Reading
The Department of Film, Theatre & Television at the University of Reading is delighted to announce the first Noh Training Project (NTP) in Europe, to take place from 22nd August – 2nd September 2011. NTP is a unique two-week workshop offering intensive, performance-based training in the dance, chant, music and performance history of Japanese classical Noh drama. Workshops will take place on the Department of Film, Theatre & Television's very own Noh stage, situated in a brand new £11.4 million theatre, film and television building.
The Project is open to anyone with an interest in Noh: actors, directors, dancers, musicians, students and academics interested in extending their performance skills are encouraged to apply. Those who have no prior experience of Noh are very welcome, as are those who already have some experience of the form. The Project will be conducted in English; Japanese language skills are not necessary.
NTP was first established by Richard Emmert in Tokyo in 1991, and later, in 1995, in Bloomsburg USA, as an annual workshop to teach Noh in English to both novices and those with some experience of the form. In both Tokyo and Bloomsburg, NTP has become an annual programme leading to an on-going relationship with students.
Fee: £450 (£400 concessions)
Fees include:
* 10 full days of tuition with Richard Emmert
* Use of the Noh stage for teaching and practice
* A course pack
Accommodation can be provided for those wishing to stay in Reading for the duration of the workshop.