Nonclassical Presents: Pioneers of Percussion at Scala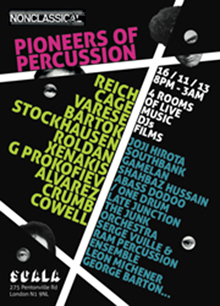 At the centre of Pioneers of Percussion festival, we're taking over Scala for our BIGGEST EVER EVENT. With three rooms of live music and DJs surveying a whole spectrum of percussion-led music throughout the night: tracing the history of percussion in musical modernism, and weaving in music from around the world to tell the full, rich, story of its development. From classics by Varese, Bartok, and Reich to virtuosos from the Indian and Japanese traditions. Meanwhile DJs from BBC's Late Junction and Nonclassical complete this vivid picture with sets throughout the night.
Performers of the scored works include: Serge Vuille (percussionist with London Sinfonietta, BBC Symphony Orchestra among others) & RCM Percussion Ensemble, George Barton, Calie Hough, James Leveridge.
Date: 16 November 2013
Venue: Scala, 275 Pentonville Road, Kings cross, N1 9NL
Email: info@nonclassical.co.uk
Web: http://nonclassical.co.uk/?p=3531
Organiser: Scala