Nouvelle muse Europa Tour 2013 Reading,UK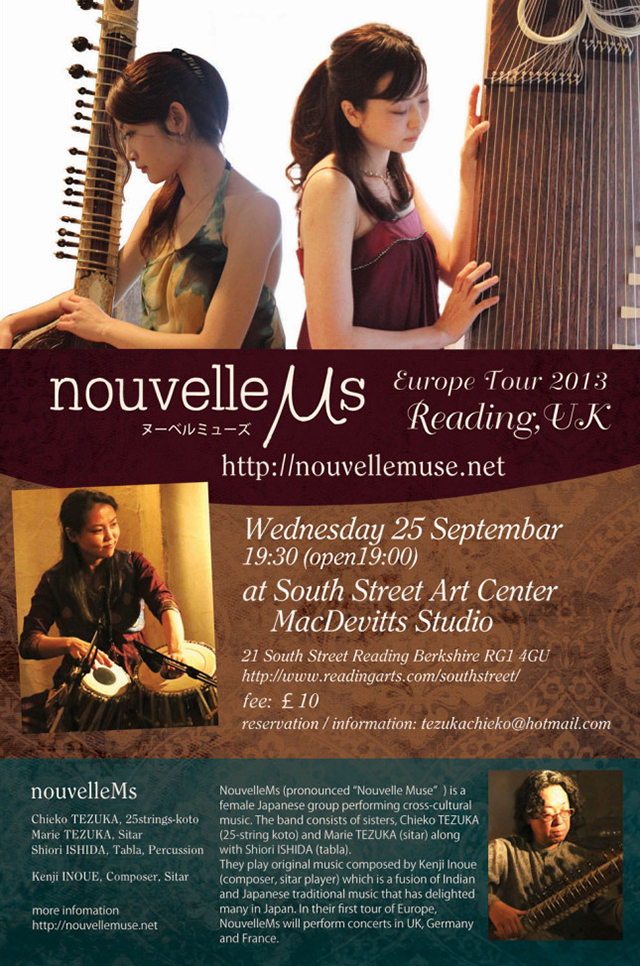 NouvelleMs (pronounced "Nouvelle Muse") is a female Japanese group performing cross-cultural music. The band consists of sisters, Chieko TEZUKA (25-string koto) and Marie TEZUKA (sitar) along with Shiori ISHIDA (tabla).
They play original music composed by Kenji Inoue (composer, sitar player) which is a fusion of Indian and Japanese traditional music that has delighted many in Japan. In their first tour of Europe, NouvelleMs will perform concerts in UK, Germany and France.
Member of nouvelle muse
Chieko TEZUKA, 25 strings-koto
Marie TEZUKA, sitar
Shiori ISHIDA, tabla, percussion
Kenji INOUE, composer,sitar
Date: 25 September 2013
Venue: South Street Art Center MacDevitts Studio, 21 South Street, Reading, Berkshire RG1 4GU
Admission: £10
E-mail: tezukachieko@hotmail.com
Web: http://nouvellemuse.net
Organiser: Nouvelle Ms