Ocean Acidification and Underwater Volcanoes in Japan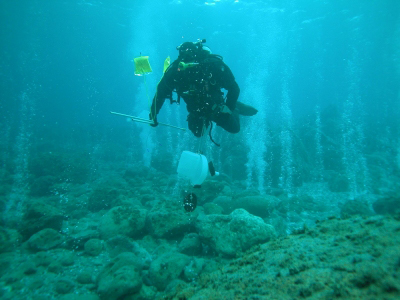 The oceans are acidifying at a rate that is unprecedented for at least the past 55 million years because they absorb around 25% of the carbon dioxide released by human activity. The coasts of Japan are already 30% more acidic than before the Industrial Revolution and look set to become 150% more acidic in our lifetimes. Scientists at the University of Tsukuba have found an underwater volcano that releases millions of litres of CO2 per day. This provides a hugely exciting opportunity for Japanese and European scientists to work closely together since techniques for studying the effects of underwater carbon dioxide gradients have recently been refined at similar volcanoes in the Mediterranean. Professor Jason Hall-Spencer has just begun a three year research project working with Shimoda Marine Station Director Professor Kazuo Inaba to explore the local marine life and carry out research at the CO2 seeps.
This project is expected to bring high-profile publicity to the oceanic side of rising CO2 levels. It is expected that whilst many seaweeds will do well, corals and many other organisms will not be able to tolerate the corrosive waters. This talk will explain what ocean acidification is, and why it is a major environmental and economic concern for fisheries and coastal ecosystems in the NW Pacific.
The Daiwa Anglo-Japanese Foundation awarded a Daiwa Foundation Small Grant to Professor Hall-Spencer to conduct a research visit to Shimoda Marine Station in June 2015.
Date: 24 May 2016, 6.00pm – 7.00pm
Venue: Daiwa Foundation Japan House, 13 – 14 Cornwall Terrace, London NW1 4QP
Tel: 020 7486 4348
Email: office@dajf.org.uk
Web: http://www.dajf.org.uk
Organiser: The Daiwa Anglo-Japanese Foundation