OKKYUNG LEE, CHRISTIAN MARCLAY, STEVE BERESFORD, JOHN BUTCHER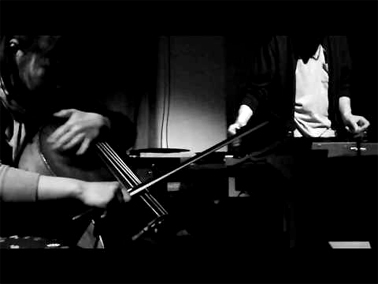 Date: Saturday 21st May 2011 (8pm)
Venue: Cafe OTO, 18-22 Ashwin St, Dalston, London E8 3DL
Tickets: £7 advance / £8 on the door
Web: http://www.cafeoto.co.uk
Email: info@cafeoto.co.uk
Cellist Okkyung Lee is one of the most dynamic forces in improvised music today, a fearless and powerful performer whose playing incorporates a love of noise, extended technique and elements from the outer fringes of contemporary composition, together with a sensitive ear and a sense of suspense worthy of Bernard Hermann. For this concert she has brought together three of her favourite musicians for an evening of duos that will present improvised music at its most eclectic and creative.
CHRISTIAN MARCLAY
Artist, composer, and improviser Christian Marclay has been experimenting with turntables since the late 1970s, using them to create music out of fragments of vaguely recognisable tunes, found sounds and unidentifiable noise. Best known for his groundbreaking film and video work, he brings the same radical juxtaposition and creativity to his work with sound.
STEVE BERESFORD
Steve Beresford is one of the giants of British improvised music, a restless multi-instrumentalist whose irreverent and anarchic spirit has been disrupting and galvanising improvised music for forty years. A superb pianist, he also plays an assortment of electronic devices and toy instruments. Always balanced precariously on the edge of chaos, he possesses an energy and verve that can animate any musical situation.
JOHN BUTCHER
John Butcher is a saxophonist of rare grace and power, who has expanded the vocabulary of the saxophone far beyond the conventions of jazz and other musics, to encompass a staggering range of harmonics, multiphonics, overtones, percussive sounds, and electronic feedback. But his playing is far more than merely an array of special effects; it's characterised by a drive and intensity that propels music into strange new places that are both incredibly beautiful and deeply exhilarating.
[pro-player width='530′ height='347′ type='video']http://www.youtube.com/watch?v=swnYWNGznaU&feature=player_embedded[/pro-player]