OTOBOKE BEAVER/Say Sue Me 'Golden Week' 2017 Tour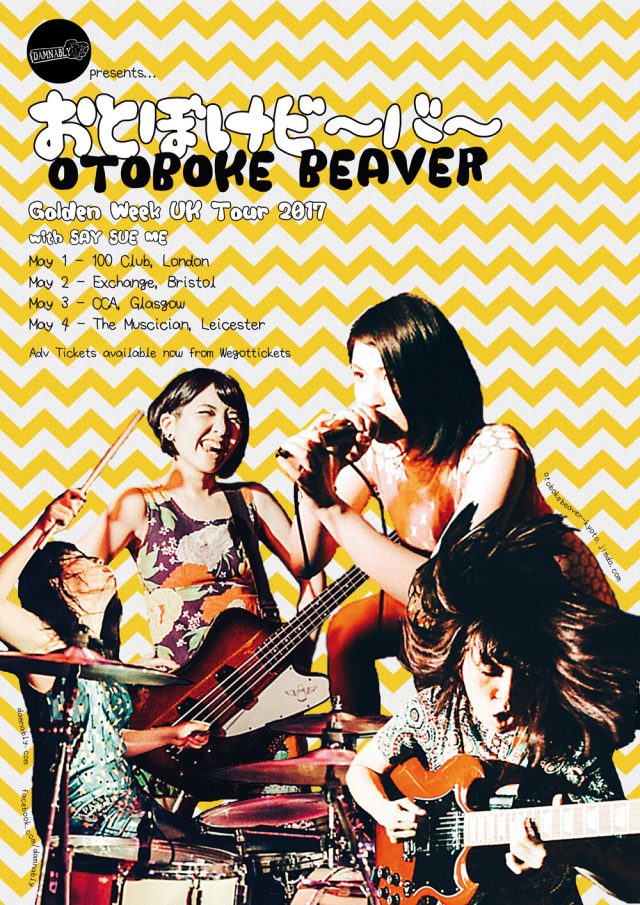 Damnably is proud to announce OTOBOKE BEAVER/Say Sue Me 'Golden Week' 2017 Tour.
May 1 – London, The 100 Club
May 2 – Bristol, Exchange
May 3 – Glasgow, CCA
May 4 – Leicester, The Musician
Tickets @
http://www.wegottickets.com/otoboke-beaver
Otoboke Beaver おとぼけビ〜バ〜 are a punk-rock-garage quartet from Kyoto, Japan.
The band's name is taken from a local 'Love Hotel' and they describe themselves as: "Japanese girls 'knock out or pound cake' band".
Formed in 2009's summer at Kyoto University's music club (where Emi Morimoto of Shonen Knife had learnt drums a few years prior) the band consists of Accorinrin (Lead Vocal & Guitar), Yoyoyoshie (Guitar &Vocals), Hiro-chan (Bass &Vocals) and Pop (Drums &Vocals). Inspired by 70's/80's alternative Japanese acts such as Yipoos/Hikasyu and more recently Afrirampo, Otoboke Beaver created their own abrasive sound that became faster the more they enjoyed it until it was at break-neck speed. They only sing in Kyoto slang reflecting the proud 'Kansai triangle' music scene of Kyoto, Osaka and Kobe that produced Boredoms, Acid Mothers Temple and Shonen Knife.
Live the band often invade the audience and drill through 18-20 songs in a set. Regular touring has built a strong fan-base in Kyoto, Osaka and Tokyo where they shared stages with Shonen Knife, Guitar Wolf, Pika☆, The Floating Guitar Borchestra of BOREDOMS, DMBQ, and BO NINGEN.
In 2016 Damnably Records released the compilation album "Okoshiyasu!! Otoboke Beaver" followed by the new EP "Bakuro Book" both of which gleaned considerable radio play from Gideon Coe/Tom Ravenscroft (BBC 6 Music), Vic Galloway (BBC Radio Scotland), John Kennedy (Radio X) & Dani Charlton (Amazing Radio). A whirlwind mostly sold-out UK tour ensued with 6 gigs & Radio X session in 5 days. 2017 sees the band fly to SXSW in Austin Tx, then release a new EP in April.
* Links
https://otobokebeaver.bandcamp.com/
https://www.facebook.com/Otobokebeaver22
https://twitter.com/otobokebeaver
https://open.spotify.com/artist/0HutkALC7kq2L8b9bnZUkq
https://instagram.com/otobokebeaver/
http://www.damnably.com/