Out of Step – Artist talk by contact Gonzo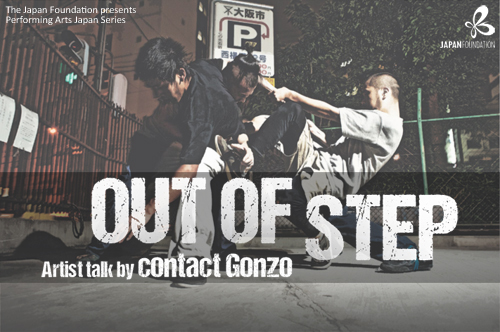 Contact Gonzo is an improvisational performance group from Osaka, Japan that disregard the framework of the prevailing definition and code of dance. Their pioneering style is a balance of elements from contemporary dance, performance art and urban culture mixed with influences from martial arts. The collective of four members with different backgrounds – Yuya Tsukahara, Keigo Mikajiri, Takuya Matsumi and Masakazu Kobayashi – use physical strength and agility to create experimental encounters with attacks of movement. Earning numerous invitations to perform at exhibitions and festivals worldwide, including MoMA in New York and the Sydney Biennale in Australia, they present their works not only through performances but also by means of art installations wherein photo and film is used.
Supported through the Japan Foundation's Performing Arts Programme (PAJ), Contact Gonzo drops into the UK on their way home from a residency in Italy and Latvia to talk about the unique performance method and body expression that they have developed. Reflecting on the current state of performing arts and performance art in Japan, they will also discuss how important it is to be responsive to the environment they encounter in order to fulfil their artistic creed.
Date: 5 September 2014 from 6.30pm
Venue: The Japan Foundation, London