Pace London and Women for Women International Present Kohei Nawa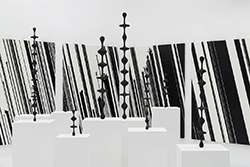 London — Pace London, in association with Women for Women International, is pleased to present an exhibition of work by the Japanese artist Kohei Nawa. The exhibition will be staged at Pace London, 6 Burlington Gardens from 8 to 22 September 2015.
Moving fluidly between media, Kohei Nawa's installations and sculptures explore concepts such as futurism, digitization and scientific experimentation. The artist's work conveys an enduring interest in architecture while addressing conditions of contemporary technology and industrial mass-production.
The exhibition presented on the first floor gallery will feature works from his Direction, Ether, Catalyst and Moment series including drawings, sculptures and site-conditioned installations.
Date: 9 – 19 September 2015
Venue: Pace London, 6 Burlington Gardens, W1S 3ET London
Email: nicolas@pacegallery.com
Tel: 020 3206 7613
Web: http://www.pacegallery.com
Organiser: Pace London, Women for Women International