Paradise Revisited – A trip back to a childhood on Gunkanjima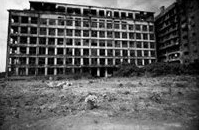 Shortly after the island of Gunkanjima (also known as Battleship Island) was registered by UNESCO as a World Heritage site, Nagasaki City granted photographer MAKIKO rare permission to visit and photograph the abandoned island in order to show it as it is now and remember how it was through the memories of a former resident who lived there as a child 40 years ago.
Shooting from a child's perspective, she has produced a hauntingly beautiful and powerful photo essay, which recalls priceless memories of a time spent in what was once a childhood paradise.
This exhibition is produced in collaboration with Nagasaki City and Nagasaki University, Japan and is sponsored by the Great Britain Sasakawa Foundation in association with LSE Arts.
Date: 3 May 2016 – 10 June 2016,
Venue: Atrium Gallery, London School of Economics, Houghton Street, London WC2A 2AE
Email: Info@makikophoto.com
Web: http://www.lse.ac.uk/intranet/LSESocial/artsAndMusic/artProjectsAndExhibitions/Paradise-Revisited-a-trip-back-to-a-childhood-on-Gunkanjima.aspxhttps://www.facebook.com/events/196961067337129
Organiser: MAKIKO