Plaid, Tekkonkinkreet (12)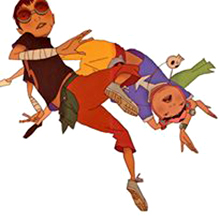 In the fictional pan-Asian metropolis of Takaramachi (Treasure Town), a pair of orphaned street kids faces the The Yakuza in an attempt to keep control of the slum where they live.
Michael Arias's 2006 adaptation of Taiyo Matsumoto's manga Tekkonkinkreet is visually inspired by the Fernando Meirelles film City of God – with its uncompromising portraits of Rio De Janeiro's favela filmed using handheld camcorders – and translates the two-dimensional, black and white manga into an urban-baroque, colour-saturated and vibrant animation.
See Tekkonkinkreet on the big screen, as Warp-signed duo Plaid perform the lush electronics of their original soundtrack live on the Barbican stage, with percussionists and a string ensemble combining with post-techno, trance-like alien sounds and more.
Age guidance 12+
Tickets: £12.50 – £20.00
Date: 9 October 2013, 8pm
Venue: Barbican Centre, Hall, Silk Street, London EC2Y 8DS
Barbican Box Office: 020 7638 8891
E-mail: tickets@barbican.org.uk
Web: http://www.barbican.org.uk
Organiser: Barbican Centre