POLYSICS to Release Weeeeeeeeee!!! Across UK and Europe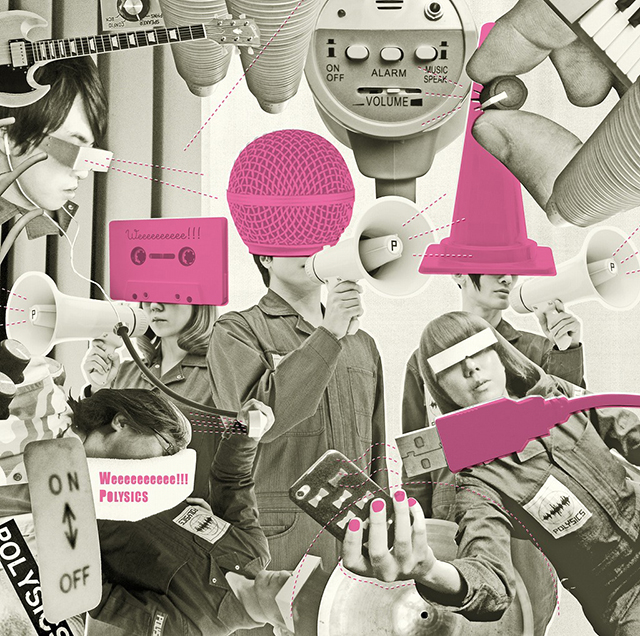 Japan's notorious boiler suited techno-new-wave hooligans POLYSICS return with Weeeeeeeeee!!!, their latest high-energy album, scheduled to shatter the eardrums of the UK and Europe from 10 June courtesy of JPU Records.
Following in the footsteps of their 15th anniversary release – which featured collaborations with a number of music legends, including the band's personal hero, Mark Mothersbaugh of DEVO – Weeeeeeeeee!!! sees the acclaimed outfit return with a mighty 17 tracks packed with fractured punk rock, vintage video game sound effects and the refreshing and quirky charm that only POLYSICS can muster.
To celebrate the release of the album, the physical version will come bundled with three exclusive bonus tracks not available digitally or on the original Japanese version. The band has also launched their official overseas Youtube channel http://www.youtube.com/polysicsvevo ahead of album's release, which includes the full videos to Weeeeeeeeee!!!'s catchy singles 'Everybody Say No' and 'Lucky Star', as well as the famous video to classic track 'I My Me Mine' – the first time the video has been officially available in this region.
TRACKLIST
01. Sparkling Water 02. Lucky Star
03. Distortion
04. Steam Pack
05. Ice, Tights, Mike 06. Why
07. Quiet Smith
08. Kitchen Ban Ban 09. Lightning Express 10. Raptus
11. High Kcal
12. Everybody Say No 13. Round The World
14. Weeeeeeeeee!!! 15. No Control (CD bonus track)
16. Watson 2012 (CD bonus track)
17. KI.KA.I.DA! 2012 (CD bonus track)
ABOUT POLYSICS
POLYSICS burst into the British psyche when cult TV series Adam and Joe Go Tokyo introduced their music ten years ago. From there the group went on to inspire a generation, becoming one of the most established Japanese acts in the UK and even influencing the likes of a young Ricky Wilson, who would later invite POLYSICS to tour with his band, The Kaiser Chiefs.
To date, POLYICS have played a total of 99 shows in the United Kingdom – including main stage at the O2 Wireless Festival in Hyde Park. In their homeland of Japan they've played every major rock festival and recently conducted a headline show at the legendary Nippon Budokan (14,000 capacity). The group was also one of the very last bands to record a session for John Peel.
MEMBERS
Hayashi (Hiro) – Guitar, vocals, synthesizer, programmer
Fumi – Bass, synthesizer, vocals
Yano – Drums, vocals
LINKS
Homepage (English): http://www.polysics.com/en/
Youtube Channel: http://www.youtube.com/polysicsvevo
Facebook: https://www.facebook.com/pages/POLYSICS/260419960659129
Twitter: https://twitter.com/POLYSICS_TOISU
JPU Records' Homepage: http://www.jpurecords.com
JPU Records' Facebook: https://www.facebook.com/JPUrecords
JPU Records' Twitter: https://twitter.com/JPUrecords