Praemium Imperiale – El Anatsui at the Royal Academy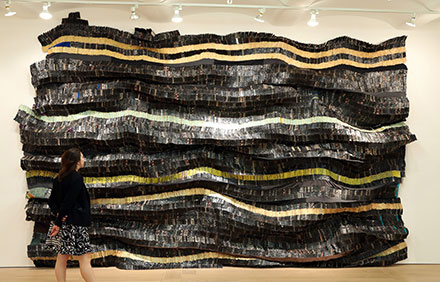 In conjunction with the Japan Art Association and October Gallery, we are delighted to invite members to an exclusive arts event to celebrate the recent announcement of the 2017 recipients of the Praemium Imperiale.
The 2017 Sculpture laureate is the Ghanaian artist El Anatsui, whose work is currently showing in the Academicians' Room of the Royal Academy of Arts. We are very fortunate to be able to offer a few places to a short talk by Gerard Houghton, Director of Special Projects at October Gallery, who has worked closely with El Anatsui since 1991 and is particularly knowledgeable about the artist's activities in Japan.
Every year, The Japan Art Association gives the Praemium Imperiale awards to artists in five different categories (Painting, Sculpture, Architecture, Music and Theatre/Film) in recognition of their international impact in their chosen field. This year's recipients were announced on 12 September. Next year will see the Praemium Imperiale celebrate its 30th anniversary and the Royal Academy of Arts, their 250th anniversary.
Date: Monday 25 September 2017, 8.30 – 9.45am
Venue: Academicians' Room, Royal Academy of Arts, Burlington House, Piccadilly, London W1J 0BD