Private view of Creation: An Exhibition of Japanese Armour 'Miyako Yoroi'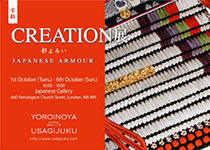 Japan Society members are invited to a special talk and private view with Usagijuku, presenting a unique insight into the traditional craft of Japanese armour (yoroi) binding.
The key feature of the exhibition is the making of modern miyako yoroi armour, in which Kyoto's traditional crafts of braided cords (kyo-kumihimo), fringed thread (kyo-fusahimo) and metal fittings (kyo-kanamono) are combined in an elegant woven craft tradition called odoshi irome, dating back to the Heian period (894-1191).
Usagijuku seek to showcase the elegance and brilliant colours of miyako yoroi. The highlights of this exhibition are two ō-yoroi and 21 ō-sode, which blend Heian period-style armour and the craft traditions of many Kyoto artisans. It is a unique opportunity to understand and appreciate the excellence and beauty of Kyoto's arts and crafts.
With the support of the Japanese Gallery, Embassy of Japan and Japan Society, the exhibition aims to share the essence of this beautiful, but disappearing Japanese art.
Date: Tuesday 1 October 2013, 6.30 – 8.30pm (Exhibition open from Tuesday 1 – Sunday 6 October, 10.00am – 6.00pm)
Venue: The Japanese Gallery, 66D Kensington Church Street, London W8 4BY