Private Viewing, Artist Talk and Workshop with Ichijoh Shimotani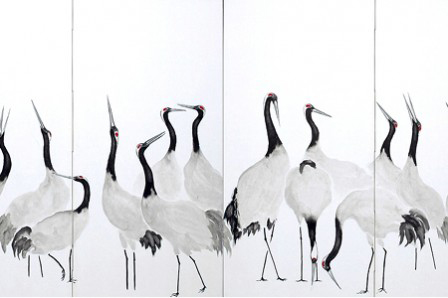 The Japan Society is delighted to invite you to a private viewing of Ichijoh Shimotani's 'Life and Hopes for the Future', an extensive exhibition featuring eight spectacular byobu-e (folding screens, literally 'wind wall pictures') and 25 kakejiku (hanging scrolls). In addition to the exhibition, Shimotani, a bokusai painter based in Osaka, will be leading a 30 minute painting workshop at 7.15pm. Numbers for the workshop are limited, so please let us know if you would like to take part. An additional workshop will take place if demand is sufficient. The exhibition will remain open until 9.30pm.
Byobu-e originate from China, and were first produced in Japan in the 8th century. They were painted with ink, paint, gold and silver on Japanese paper or silk stretched over multiple frames, and displayed in the Imperial Court, homes of the daimyo, temples and shrines. Shimotani has introduced contemporary elements of symbolism, mysticism and spiritualism to these traditional art forms.
This exhibition is being held in remembrance of the Kobe earthquake of 1995, and is raising money for Leukaemia & Lymphoma Research (Bloodwise). There is a suggested donation of £5 for attendees.
Ichijoh Shimotani is a Japanese bokusai painter based in Osaka. Born in Tokushima, Ichijoh graduated from the Osaka University of Pharmaceutical Sciences in 1965 and soon discovered her love for painting. In 1974, she ventured into the world of oil painting and has had a presence in the Japanese traditional and modern art scene ever since. With expertise in Japanese and Chinese-Indian Ink painting, Ichijoh has held numerous exhibitions in Japan and overseas. She founded the Ichijoh Art Gallery and the Japanese Modern Art Association in Osaka and has served as a global ambassador for Japanese art and culture, participating in international art and culture exchange programs with China and France.
Date: Saturday 3 October 2015, 6.30-8.30pm (workshop at 7.15pm)
Venue: DoubleTree by Hilton, 92 Southampton Row, London WC1B 4BH