Public Seminar – Always on and connected: comparing young people and their mobile social media use in Japan, the US, and the UK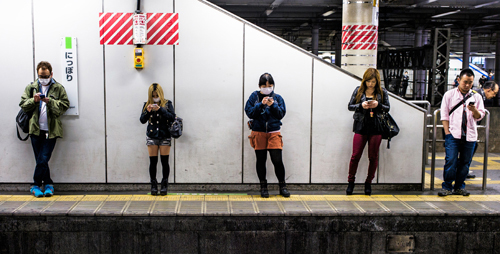 Smartphone use has seen a meteoric rise in the past few years. Indeed, it is now hard for most of us, especially young people living in cosmopolitan urban centres, to imagine a world without the smartphone – and, for that matter, without the social media apps it supports such as Twitter, Facebook and LINE. But how do people in different parts of the world use their smartphones? What do they share cross-culturally – and what do they choose not to share? Do cultural differences really matter when the technology is the same?
In this public seminar, Professor Toshie Takahashi (Waseda University) will present findings from a comparative study of digital media use amongst young people in Japan, the US and the UK, focusing on their practices of connectivity with intimate and distant others through social media on smartphones. Joining Takahashi to discuss these findings will be Dr Chris Davies, joint convenor of the Learning and New Technologies Research Group at the Department of Education, University of Oxford.
Date: 11 September 2014 from 6.30pm
Venue: The Japan Foundation, London