Public Seminar – From Kobe to Tohoku: The Role of Higher Education Institutions in the Process of Disaster Recovery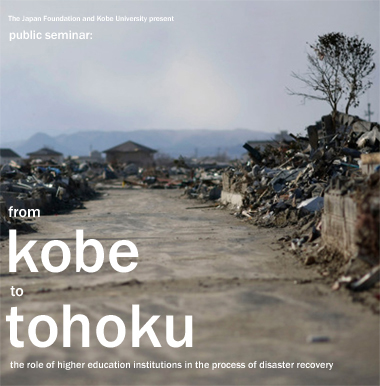 Through the centuries, Japan has been hit by a number of devastating natural disasters. After each disaster begins the long process of reconstruction as people rebuild their lives, their communities and their local economy. But how can universities located in disaster areas contribute to the reconstruction process? With organisational capacity, expertise and the necessary technology, higher education institutions should, in theory, be uniquely placed to provide valuable support.
This seminar looks at the role played by Kobe University and Tohoku University following the Kobe earthquake of 1995 and the Tohoku earthquake and tsunami of 2011. We will be joined by scholars of both universities who will examine the contributions made by their institutions to the recovery efforts in a variety of fields, from the local economy and reconstruction policy, to community projects and the treatment of post-traumatic stress.
This event is co-organised with Kobe University and will be moderated by Professor Roger Goodman from the University of Oxford.
Date: 13 November 2013 from 3.00pm
Venue: The Japan Foundation, London