Public Seminar: On the margins in Japan – voices from the underclass, sex industry, far-right, and new left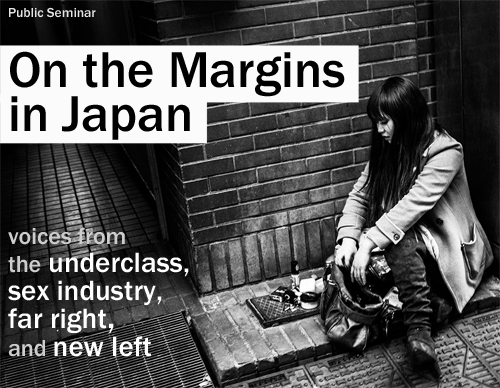 In this special public seminar, sociologist and rising star of Japanese academia Hiroshi Kainuma will reveal another side to modern Japan through a series of case studies examining those living on the fringes of Japanese society.
Hiroshi Kainuma is a specially-appointed researcher at Fukushima University's Fukushima Future Center for Regional Revitalization and PhD candidate in sociology at the University of Tokyo. Born in Fukushima in 1984, Kainuma is one of Japan's leading young sociologists. He is the author of number of best-selling books including "Bleached Society" a study looking at marginal groups in Japan, "'Fukushima' theory–the birth of a nuclear village," and "Provincial logic – considering Japan's future from the perspective of Fukushima". He also writes regular columns for several leading magazines including Bungeishunju and AERA.
Date: 23 January 2014 from 6.30pm
Venue: The Japan Foundation, London