Public Seminar – Rethinking Battleship Island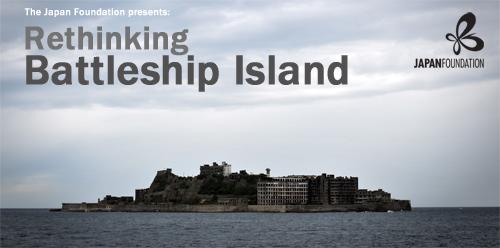 In the summer of 2013, an interdisciplinary team of scholars, funded as part of the Arts and Humanities Research Council's ' Care for the Future' scheme and supported by the Japan Foundation, visited the island of Hashima, situated 15 kilometres off the coast of Nagasaki on the southern tip of the Japanese archipelago. On account of its strange shape, its aberrant topography, the island is referred to colloquially as Gunkanjima (or Battleship Island).
Once the most densely populated place on earth, Hashima was mined for coal by the Mitsubishi Company from the late nineteenth century until 1974, when the island was abandoned with lightning speed. Today, Hashima's extraordinary modernist tower blocks and reinforced concrete sea wall have been left to rot and ruin – the island a site of elemental distress and erosion, a dark saturn of sorts.
In this special public seminar, members of this team perform their our own troubled attempts to map the island, and to come to terms with an uncanny sense of temporal disjunction caused by a future that seems, already, to have come to pass. They will be joined by Senior Lecturer in Japanese Studies at the University of Sheffield, Dr Peter Matanle, who has been conducting his own research on the island.
The event will feature a thirty-minute film by visual artist Lee Hassall (University of Worcester), supported by short papers on the past, present and future of Hashima from Dr Mark Pendleton (University of Sheffield) and Professor Carl Lavery (University of Glasgow).
Date: 13 December 2013 from 6.30pm
Venue: The Japan Foundation, London