Pure Land Japanese Garden – lantern-lit evening garden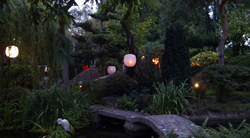 Pure Land Japanese Garden – lantern-lit evening garden
The lantern-lit evening garden honours an ancient and venerable Japanese tradition.
In Japan, toro (the traditional lanterns) were originally used only in Buddhist temples, where they lined and illuminated paths; lit lanterns were then considered an offering to Buddha.
During the Heian period (794-1185), however, they started being used also in Shinto shrines and private homes.
During the Azuchi-Momoyama period (1568–1600) stone lanterns were popularised by tea masters, who used them as a decoration in their gardens.
In the present day, the traditional Japanese lantern-lit evening garden is increasingly rare even within Japan, and Pure Land Japanese Garden is the only place in Europe where one may take part in this beautiful experience.
Date: 1 August – 27 September 2015 (Every Friday, Saturday and Sunday evening)
Venue: Pure Land, North Clifton, Nr Newark, Nottinghamshire NG23 7AT
Tel: 01777 228567
Web: http://www.buddhamaitreya.co.uk/japanese-garden
Organiser: Pure Land