Reflections: Dok Hi Kim Solo Exhibition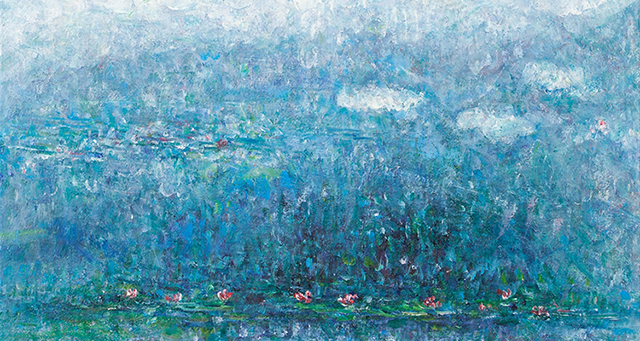 Dok Hi Kim's textured naturescapes vacillate between serenity and electricity. She paints without pre-drawing or photographs, and she works from her studio rather than on location. In her extensive corpus, the spectator finds a vast array of delocalised naturescapes and abstractions of organic phenomena, as diverse as blizzards, sunsets, cloud-shrouded mountain peaks, crystalline rock faces, and shimmering night skies. But Dok Hi Kim's paintings have most often been read as waterscapes. Indeed, the protagonists of 'Reflections' at MOKSPACE are a lustrous company of blues, greens and whites, supported by a cast of water lilies.
The assured brushstrokes and technical maturity of an artist who has worked with oil for over thirty years meet with a playful curiosity for experimenting with colour, texture and scale (in previous exhibitions, the artist has used canvases up to two metres in length). Peer into the luminous, oceanic depths of her work, and discover a cosmos of celestial and cerulean reflections.
About the artist:
Dok Hi Kim was born in South Korea and completed her Bachelor's in Applied Art at Sung Kyun Kwan University in Seoul, before relocating to Melbourne, Australia, for a further BA in Fine Arts. Her oil paintings have been sold at the Moscow International Art Fair, at auction houses in London and Paris, and her work has been acquired by the Australian National Museum and Moscow's International Design School.
Selected Solo Exhibitions:
2007 – 'Recent Works,' Lindell Fine Art, Melbourne, Australia.
2003 – 'Tranquillity,' Wetterling Teo Gallery, Singapore.
2002 – 'ART 2000 Contemporain,' Espace Auteil, Paris, France.
1996 – 'Emerging Light,' Gallery Savina, Seoul, Korea.
1993 – 'Autumn Lights,' International House Gallery, Osaka, Japan.
Exhibition: 22nd Oct – 12th Nov 2013
Venue: MOKSPACE, 33 Museum Street, London WC1A 1LH