REFLECTIONS Exhibition of Japanese Art (by the students of Master Koshu)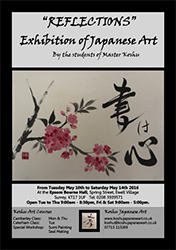 Koshu is the Japanese title of a Master Calligrapher, Akemi Lucas. She was born in Japan, and at the age of eight started to learn Japanese Calligraphy with her teacher, Mr Seizan Fujimoto. Currently, building on traditional skills Koshu has learnt, she is now embracing new ideas. Her latest work depicts the harmony between the ancient and the modern, the east and the west, and the past and the present.
Koshu started to teach and set up her calligraphy school in Japan in 1992. She moved to the UK and has been introducing and teaching not only calligraphy, but Sumi-e (brush painting) and Tenkoku (seal making). She currently teaches children and adult classes in Camberley and Caterham in Surrey (UK) since 2002, including separate workshops at many locations. Through her continuous guidance, some of her students are further challenging themselves to grading, aiming to become professional calligraphers.
This will be the third students' exhibition displaying the true beauty of Japanese art, portrayed through the diverse styles of writing and highly skilled techniques, in addition to brush paintings by both children and adults. Entitled "Reflections", this exhibition depicts the inner mind of each student through calligraphy; for the journey of the brush is the journey of the individual, on a voyage of finding his or her selfhood.
This exhibition aims not only to understand the student's mind, but to appreciate calligraphy in its true form. For Japanese calligraphy embodies many depths; a dance, a piece of poetry, and a vehicle of self-expressionism. There is a traditional saying: "the mind before, the brush after" which suggests that one should have inner harmony before one can take hold of the brush. This is why the feeling behind each stroke is so important. It is the balance between control and freedom all at once, which is something rare yet beautiful.
Date: 10 – 14 May 2016, Open Tue to Thu 9 :00am-8 :30pm, Fri & Sat 9 :00am-5 :00pm
Venue: Bourne Hall, in Epsom, Spring Street, Ewell Village, Surrey, KT17 1UF
Tel: 02083939571
E-mail: koshu@koshujapaneseart.co.uk
Tel: 07713113269
Web: http://koshujapaneseart.co.uk
Organiser: Koshu Japanese Art