Reimagining Japanese craft traditions in the modern age – Shinichiro Hashiguchi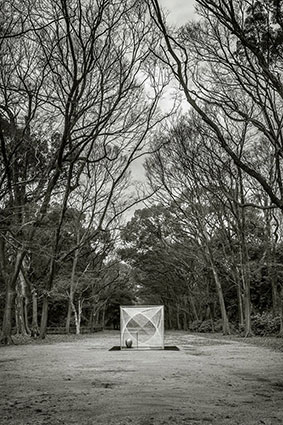 The Japan Society and Chelsea College of Arts (CCA) are delighted to welcome award-winning Osaka-based architect, Shinichiro Hashiguchi, for this special lecture. In it Hashiguchi will be discussing his practice and the ways he has been working with skilled crafts people and their companies to explore new ways to give life to the products they create.
When you visit a museum or art gallery, the chances are that you will see among the exhibits art objects which it would be almost impossible to recreate today. Craft techniques and traditions, refined and perfected over generations, are gradually being lost as lifestyles and consumer demands change. This is true of Japan's crafts as of those in many other parts of the world. In response to this, Shinichiro Hashiguchi has created a series of tea rooms which use unexpected materials and explore their qualities.
The lecture is part of a wider collaborative project between the Japan Society, Hashiguchi Architect & Associates and Chelsea College of Arts. From 25 April – 6 May 2017, Shinichiro Hashiguchi's Open Weave Tea Room will be on display on CCA's Rootstein Hopkins Parade Ground. This enchanting space is created using fine twisted strings used in making fusuma and which demonstrate the delicate craft of the loom, refined and perfected over the years. Visitors will also be able to view three tea rooms designed and built in response by Chelsea's BA Interior Spatial Design students.
Date: Wednesday 26 April 2017 6.30pm
Venue: Lecture Theatre, Chelsea College of Arts, UAL London, 16 John Islip Street, London SW1P 4JU