Report From Fukushima: Medical assistance to local residents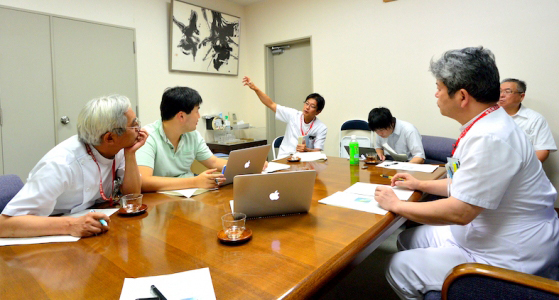 On 11 March 2011, a massive earthquake and tsunami struck Japan and led to meltdowns in the reactors of the Fukushima Daiichi nuclear power plant. The release of radioactive material into the air, water, and soil raised public concerns about radiation exposure and the long-term risk of cancer among nearby residents. According to Mr. Shuhei Nomura (a doctoral student in Epidemiology and Biostatistics at Imperial College London), there has been a great deal of speculation, but relatively little actual scientific evidence has been available on the current situation around Fukushima.
Mr Nomura was based in Minamisoma General Municipal Hospital, Fukushima Prefecture, during the recovery period after the disaster. He will give a talk about current radiation levels in coastal cities (Minamisoma City and Soma City, 15-40km north of the nuclear plant), as well as key issues and challenges facing the residents of these cities. He will also show data from the internal and external radiation screening programmes for residents of these cities – work in which he has been involved since it was launched in Japan in July 2011.
Shuhei Nomura is based at Imperial College London, where he is a research postgraduate undertaking his PhD in the Department of Epidemiology and Biostatistics. In collaboration with partners from the University of Tokyo, he conducts research into health management following incidents of radiation release. Prior to moving to Imperial College London, he was a Master's degree student at the Department of Global Health Policy, University of Tokyo. After the Fukushima Daiichi nuclear power plant accident in 2011, he worked with local municipalities and medical facilities in Fukushima on disaster recovery plans, such as assessing and strengthening the national and local capacity for managing radiation exposure risks.
Date: 25 February 2014, 6:00pm
Venue: Daiwa Foundation Japan House, 13 – 14 Cornwall Terrace, London NW1 4QP
Tel: 020 7486 4348
Email: office@dajf.org.uk
Web: http://www.dajf.org.uk
Organiser: The Daiwa Anglo-Japanese Foundation