Restaurant Tour 20: Kokoryeo Korean Restaurant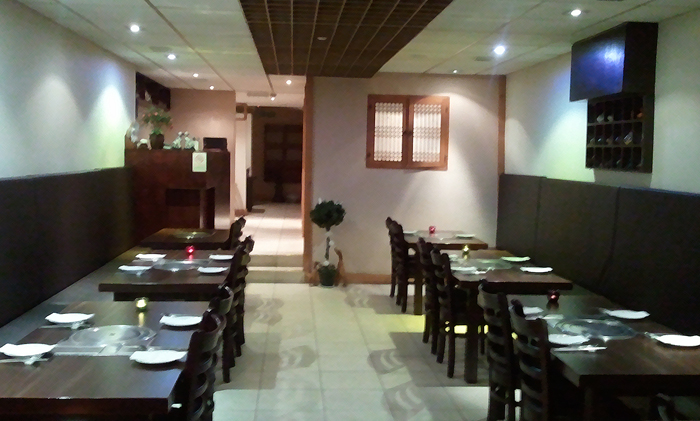 The geography of restaurants run by Koreans in London can be pin-pointed to two areas: New Malden, better known as 'Korean Town' and Central London, which currently holds over one hundred restaurants. Taking into consideration that over half of the restaurants serve Japanese, Chinese and European cuisine, the number of Korean restaurants in London then drops significantly. Opening a restaurant in areas outside the two locations named above is a huge business challenge in itself, so it is difficult to find Korean restaurants in such areas.
Kokoryeo's owner Mr. Hyun Seop Cho, however, welcomed this risky challenge and opened the Korean restaurant at an unlikely location of Staines. Whilst the location places Kokuryeo near Heathrow airport, it is far from London or New Malden, the more conventional location for Korean restaurants. Staines is a small multicultural area of little Koreans – which begs the question: how does Korean Food go down in this area? And the answer is clear. The restaurant now welcomes customers of all around the world, and Mr. Cho estimates there to be one third of each Korean, British and other nationalities who visit the restaurant.
Turning the spotlight back onto the mastermind behind Kokuryeo, Mr. Cho, he is proud of his entire menu and failed to pick out a certain popular dish. He is dedicated in creating new menus and experimenting also, whilst maintaining the high standard which doesn't waver regardless of customer volume. With the belief that he himself is a part of Kokuryeo's 'content', he is a captivating speaker and a delightful host.
One of the comments Kokuryeo's customers make over and over again is that 'the food is always fresh'. As Mr. Cho knows that the customer can easily distinguish the difference between good and the not-so-good ingredients by simply tasting the dish, he stretches his budget to serve only the best, and spends equal attention and time on the preparation and storage of the fresh ingredients. To pick just a few of Kokuryeo's best, the Dolsot-bibimbap (Rice and mixed vegetables in a stone pot) and the barbeque are prime examples of fine dining. There are many different types of Dolsot-bibimbap, from Kimchi and pork toppings to Salmon toppings and Seafood toppings; and the popular Jumul-luk (Spicy marinated pork) has a secret ingredient that has not been revealed (to anyone) to date.
Mr. Cho considers himself to be one of the 'second generation Korean Food traders'. He thanks the 'first generation' for providing the atmosphere and confidence to further this industry and believes that it is his job, as a 'second generation' to provide an even better environment for the next generation to prosper in the Korean Food Industry. With the recent Hanryu boom and active exportation agreements having been achieved between Korea and Europe, he predicts that there will be an increase in locals approaching and being met with Korean content: "and a multicultural country with respect for different cultures has a potentially very successful outlook." he adds.
Reported by Bada Kim (bada@theeast.org)