Romantic moments–A recital by violinist Yuka Matsumoto and Kumi Matsuo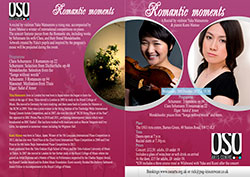 A recital given by violinist Yuka Matsumoto a rising star, accompanied by Kumi Matsuo a winner of international competitions on piano.
The concert features pieces from the Romantic era, including works by Schumann his wife Clara, and their friend Mendelssohn.
Artwork created by Yuka's pupils and inspired by the program's music will be projected during the event.
Programme
Clara Schumann: 3 Romances op.22
Schumann: Selection from Dichterliebe op.48
Mendelssohn: Selection from the "Songs without words"
Schumann: 3 Romances op.94
Massenet: Meditation from Thais
Elgar: Salut d'Amor
Yuka Matsumoto lives in London but was born in Japan where she began to learn the violin at the age of three. Yuka moved to London in 2003 to study at the Royal College of Music. She moved to Germany for more studying, and then came back in London for Masters at the RCM in 2009.
Yuka was a prize-winner in the String Section of the Tunbridge Wells International Young Concert Artists Competition, and in 2007, she won the title of "RCM String Player of the Year". She appeared in BBC Proms Plus in 2010 and 2011, performing contemporary pieces which were broadcasted on BBC Radio3. She has have worked with musicians such as Maxim Vengerov and Ivry Gitlis, has appeared at numerous venues including the Wigmore Hall.
Kumi Matsuo was born in Tokyo, Japan. Winner of the 5th Louisiana International Piano Competition in 2013, she has also won Third Prize at the 22nd Ferrol International Piano Competition in 2008 and First Prize at the 6th Isidor Bajic International Piano Competition in 2012.
Kumi graduated from the Toho Gakuen High School of Music and the Toho Gakuen University of Music in Tokyo. In 2007 she moved to London for her further study at the Royal College of Music where she gained an Artist Diploma and a Master of Music in Performance supported by the Charles Napper Award, the Russell Gander Award and the Rohm Music Foundation. Kumi recently finished the Anthony Saltmarsh Junior Fellow in Accompaniment at the Royal College of Music.
Tickets: £12.50 adults, £8 under 18 (Includes a glass of wine,beer or soft drink on arrival. At the door, £15 for adults, £8 under 18.)
Date: 28 October 2015, 19.30
Venue: The OSO Arts centre, Barnes Green, 49 Station Road, SW13 0LF
E-mail: rick@pag-leisurewear.co.uk
Web: http://www.osoarts.org.uk
Organiser: Yuka Matsumoto