Rosie Middleton (soprano) with Ada Kan (piano)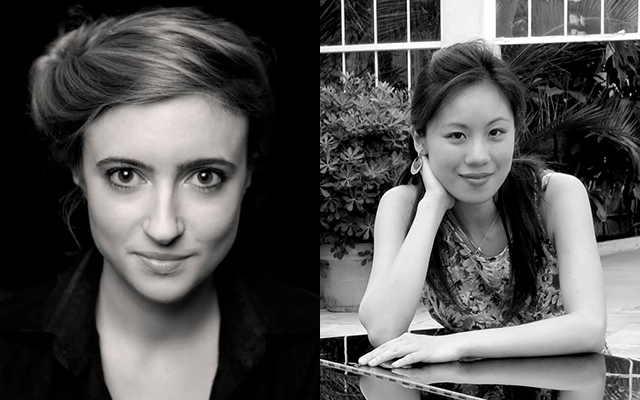 Programme:
Rosie Middleton:
Granados – La Maja Dolorosa no.1 – 3
Chabrier – L'île heureuse
– Les Cigales
Bizet – Adieux de l'hôtesse arabe
– Ouvre ton coeur
Ada Kan:
Albéniz: Iberia Book 1: a) Evocación (Evocation)
b) El Puerto (The Harbour)
Mompou: a) Jeunes Filles au Jardin (Young Girls in the Garden)
b) Canción y Danza No. 6 (Song and Dance No. 6)
Debussy – L'Isle Joyeuse (The Joyous Island)
Artist info:
Born in Manchester, Rosie Middleton began her formal musical training at Chetham's School of Music. She completed a Masters in Vocal and Opera Performance at the Royal Northern College of Music in September, where she studied with Sarah Rhodes.
Recent roles include Victorian in Opera Holland Park's world premiere of Alice's Adventures in Wonderland and Oberon, A Midsummer Night's Dream as part of Sheffield's A Boy is Born Festival. In February she performed Pierrot Lunaire as part of the Southbank Centre's The Rest is Noise festival, which was reviewed as "staggeringly good" (New Statesman, February 2013). Rosie also joined Opera Holland Park Chorus for their 2013 season.
For RNCM opera productions, she played the roles of Ericlea(Il Ritorno di Ulisse), L'Ecureuil (L'enfant et les sortileges),and Old Lady with one buttock (Candide). Other roles include Carmen (Carmen), Hansel (Hansel und Gretel), Zweite Dame (Die Zauberflote) and Sorceress (Dido and Aeneas).
On the concert platform recent work includes Mendelssohn's Elijah, Handel's Messiah, Bach B Minor Mass andMagnificat, and the Rossini Petite Messe Solenelle. She has performed in master classes with international musicians including Ann Murray, Sarah Walker and Jeff Lloyd Roberts.
Future engagements include Flora/Annina in La Traviata for Opera Up Close, and Prince Orlovsky Die Fledermaus for Opera on Location. In November, Rosie will give a recital of French and Spanish song in Murcia, Spain as part of the city's annual music festival.
Ada Kan was born in Hong Kong in 1985 and moved to UK in 1994. She completed her Bachelor's of Music at the Royal Academy of Music and her Masters of Music at Royal Northern College of Music with distinction. She studied piano with Michael Young and Paul Roberts during her degrees.
From a young age Ada showed musical promise after winning 'South West Young Musician of the Year" and was appointed City Wait by the Lord Mayor of Bristol whereby she was awarded a music scholarship. She was also a regular winner at the local Eistefford and ABRSM High Scorers' Concerts. In 2001, she was invited to perform Schumann's piano concerto at the Victoria Rooms in Bristol. Since winning the EPTA (European Piano Teachers Association) competition in 2004, she has performed as an EPTA artist in venues such as St Martin-in-the Fields in London, the Prestwich Music Club in Manchester and Warwick Arts Centre. In 2007, Ada was awarded the Special Prize in the Ruislip-Northwood Concerto Competition and she was commended in the Leslie England Prize at the Royal Academy of Music for her final recital. In 2011 she was invited to perform a solo recital for the Hebden Bridge Arts Festival.
Ada attended both Castelfranc Piano Summer School and Chethams Summer School with scholarship between 2008-2011. She has played in masterclasses and lessons with pianists such as Noriko Ogawa, Bernard d'Ascoli, Ian Brown, Philippe Cassard, Joan Havill and Martin Roscoe. She has also received jazz piano tuition from Harry Harris and Nikki Iles.
Ada has developed a passion for playing French and Spanish music since studying with concert pianist Paul Roberts who is also a writer and lecturer on French piano music.
Ada currently teaches piano at several schools in London as well as giving private tuitions. She is also an active accompanist, playing for instrumental exams, auditions, ballet exams as well as recording for a music theatre company. Ada established a jazz cabaret duo called 'Cabaret Capers' with singer Nadia Nadif in 2010 and they have since performed on Jazz FM radio, at Wilton's Music Hall and Ronnie Scott's bar.
Date: Wed Nov 27th 2013, 1:10–2:00 pm
Venue: St. Sepulchre, the Musicians Church, Holborn Viaduct, London EC1A 2DG
Tel: 020 72374445
Email: godfreyking316@btinternet.com
Web: www.ajsw.org.uk
Organiser: Anglo-Japanese Society of Wessex