ROYAL ANCESTORS AND CONTEMPORARY CULTURE A talk by Philip Gowman, London Korean Links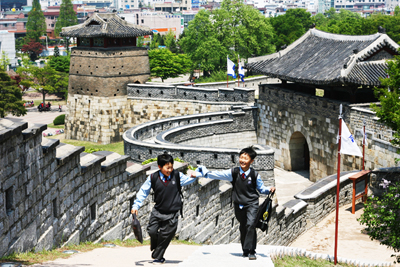 Date: Tuesday 17 May 2011, 7pm
Venue: Korean Cultural Centre UK, Grand Buildings, 1-3 Strand, London, WC2N 5BW
Fee: Entry is free, but please reserve your place by email to press@koreanembassy.org.uk or
Phone to the Embassy of the Republic of Korea at 0207 227 5500
About the talk
This talk marks the launch of Royal Ancestors and Ancient Remedies – A brief journey through Korea's heritage, published by the Korean Culture and Information Service. The book, by London Korean Links editor Philip Gowman, is a travel diary of a week spent in Korea in May 2010. The "Royal Ancestors" in the title are commemorated in the rituals held every May at the Jongmyo shrine in Seoul – a truly awe-inspiring ceremony dismissed as "really boring" by 99.9% of modern Koreans; the "Ancient Remedies" refer to the enduring popularity of herbal medicine in Korea – the more so since the screening of a popular TV drama called Heo Jun, featuring the author of the 17th century herbal medicine textbook which is Korea's latest literary asset listed at UNESCO.
As well as introducing the book, Philip will seek to answer the two questions he is most frequently asked: How did you acquire your interest in Korea? and What do you find fascinating in Korean culture? Answers will range from some of Korea's ancient traditions to much more up-to-date aspects of Korea's pop culture.
About the speaker
Philip Gowman, the founder of the website London Korean Links, is a figure often to be found at Korea-related events at the KCCUK and elsewhere. Recognising the contribution made by the website, last year he was accepted on to the Media Fellowship Programme run by the Korean Ministry of Culture, Sports and Tourism and spent a week on a tailor-made programme on how Korea seeks to preserve its heritage and present and reinvent it for modern audiences. This book is the result of that visit.
* Refreshments will be served before and after the talk in the Reception area.