Ryo Kawasaki R-B Quartet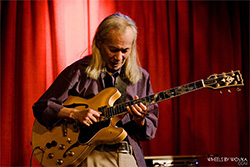 Guitarist and composer Ryo Kawasaki has been one of the pioneering forces behind the development of the fusion genre since the late 1960s. He has now teamed up with leading Estonian bassist, Kaarel Liiv, and keyboardist, Raun Juurikas, along with American drummer Brian Melvin – who has closely worked with Jaco Pastorius and Joe Henderson – returning to his roots to focus on a fusion, funk, soul and jazz-rock sound with this new group, Ryo Kawasaki R-B Quartet.
Still highly regarded for soul-jazz classics such as Trinkets and Things, a new retrospective called Selected Works 1979 to 1983 is being released by Nu Northern Soul Records on Record Store Day, April 16th. Advance copies of the very limited vinyl LP will be available on the night of the show.
Tickets: £18.00 – £32.50
Date: 6 April 2016
Venue: Ronnie Scott's Jazz Club, 47 Frith Street, Soho, London W1
Tel: 020 7439 0747
Web: http://www.ronniescotts.co.uk/
Organiser: Ronnie Scott's Jazz Club