Safe as Houses? Housing and Welfare in an Ageing Society: Japan and UK Perspectives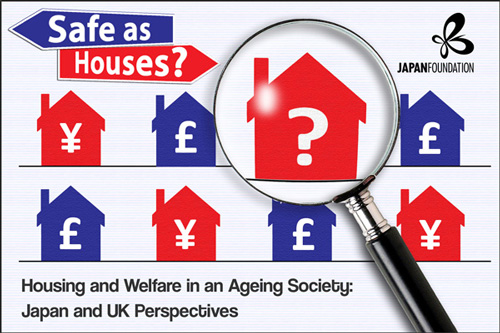 In both Japan and the UK, housing policy has largely fixated on the goal of widening access to home ownership, underpinned to some extent with the ideology of asset-based welfare, or that home ownership can play a role as a supplement or alternative to state welfare by allowing families from all walks of life to accumulate wealth, and provide social security to ageing home owners.
In Japan the promotion of home ownership has long been embedded in welfare provision, however recent social and economic changes have exposed weaknesses in this ideology.
Two decades of post-bubble recession and housing price volatility have highlighted the vulnerability of housing asset values, creating barriers to turning real estate into cash to fund welfare needs. A construction based approach to housing has further devalued existing stock resulting in a huge surplus of 'akiya' or abandoned decaying housing, scattered across Japan. Widening social inequality, as a result of economic recession and neo-liberal policy reform has also limited accessibility to home ownership for some.
In this special public seminar, Dr Misa Izuhara (University of Bristol) will critically explore the focus on home ownership in housing policy in Japan, and will consider the future of home ownership in Japan's ageing society, especially the challenges arising around using housing assets in later life in the existing social and market systems.
Later Dr Izuhara will be joined in discussion by UK housing expert Dr Beverley Searle (University of Dundee) to take a look at the future of home ownership in Japan and the UK, and consider whether anything can be learnt from how the situation is developing in each country, both of which are facing challenges arising from ageing populations, economic recession, housing price volatility and the effects of neo-liberal policy reforms.
Can promotion of home ownership be an egalitarian and inclusionary policy and provide social security for the elderly in later life? Or should alternative policies be promoted to make housing more accessible and affordable and a better fit to meet the changing demands of our rapidly ageing populations?
Date: 10 November 2015 from 6.30pm
Venue: Mander Hall, Hamilton House, Mabledon Place, London, WC1H 9BD