Sake: Ancient and Modern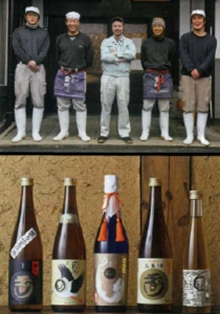 British-born Philip Harper went to Japan to teach English in 1988 and soon became fascinated by sake. With two Japanese friends, he visited breweries, and took part in tastings and rice planting. Ultimately the entire trio gave up more conventional careers to become sake brewers and all are still working as practising brewers today. In over twenty years of brewing, Philip has worked at four different sake breweries. In 2007, he was hired by the Kinoshita Brewery as Master Brewer and has since led the Tamagawa sake brand to two Gold Medals in the National Sake Awards. He is known for brewing in an exceptionally wide range of styles and has doubled production to satisfy the many new fans of Tamagawa products. He is the author of two books and numerous articles on sake. He will be talking about sake's long history and his own experiences as the only non-Japanese to have become a master sake brewer. There will also be an opportunity to taste some of the different sake styles Philip produces.
Date: 5 September 2013, 6:00pm
Venue: Daiwa Foundation Japan House, 13/14 Cornwall Terrace, Outer Circle, London NW1 4QP
Tel: 020 7486 4348
Email: office@dajf.org.uk
Web: http://www.dajf.org.uk
Organiser: The Daiwa Anglo-Japanese Foundation in conjunction with Japan 400.