Japanese discussion with director Katsumi Sakaguchi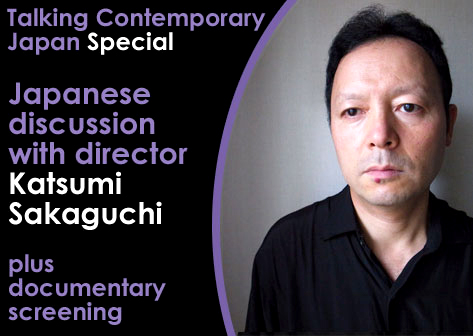 Date: February 15th, 2012 (Sleep will be shown at ICA on February 16th from 6:30pm)
Time: 18:30 – 21:00
Venue: The Japan Foundation, London
Fee: £7.00 (fee includes free ticket to view the movie Sleep at ICA, worth £10.00)
The Japan Foundation are delighted to announce that we will be providing a unique opportunity for advanced Japanese language learners to practice their Japanese while interacting with renowned Japanese director, Katsumi Sakaguchi, in a one-evening special of Talking Contemporary Japan.
The evening's programme will begin with a showing of one of Mr. Sakaguchi's most powerful documentaries, shown in its original Japanese language. Participants will then have the opportunity to discuss the documentary's content in Japanese among themselves and with Mr Sakaguchi himself. The discussion will be guided by Seiji Fukushima, chief Japanese Language advisor at the Japan Foundation, who will provide explanations of the language featured in the documentary.
Participants will also receive a free ticket to see a one-off screening of Mr. Sakaguchi's 2011 movie, Sleep ("Nemuri Yusurika"), at the ICA cinema on 16th February at 6:30pm, as part of Japan Foundation's Touring Film Programme, Whose Film Is It Anyway?
This truly is an unmissable chance to practice real-life, advanced Japanese while meeting one of Japan's most insightful commentators on modern Japanese society.