Scottish Connections with Japan: Historical Legacies and Contemporary Impact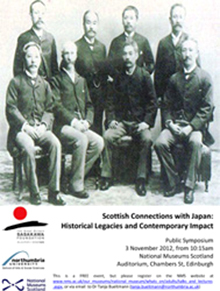 Join artists, academics and curators for a one-day symposium exploring Scotland's relationship with Japan. Spanning art and technology, this multi-disciplinary event will be introduced by key note speaker Professor Tom Devine. The event is funded by the Great Britain Sasakawa Foundation with the support of Northumbria University and National Museums Scotland.
The symposium will be held on Saturday, 3 November 2012 from 10:15am, National Museums Scotland, Chambers St, Edinburgh. The event is free, but registration is required.
Date: 3 November 2012
Venue: National Museums Scotland, Chambers Street Edinburgh, EH1 1JF
Email: tanja.bueltmann@northumbria.ac.uk
Web: http://thescottishdiaspora.wordpress.com/2012/07/24/scottish-connections-with-japan-historical-legacies-and-contemporary-impact/
Organiser: Northumbria University, National Museums Scotland and Great Britain Sasakawa Foundation