Seasons in the Sun: The Heyday of Nikkatsu Studios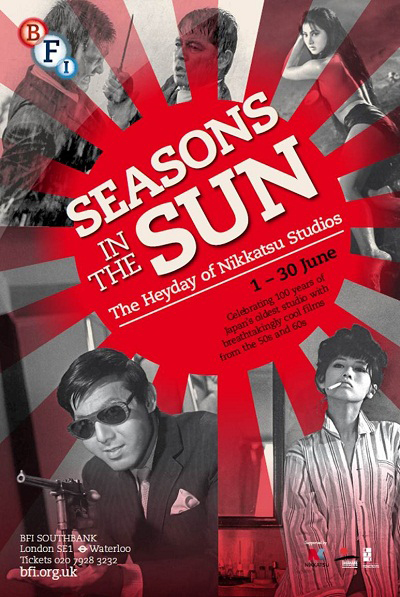 To celebrate the centenary of the Japanese film studio Nikkatsu, we select a programme of popular and epoch-defining works from the 1950s and 1960s, directed by some of the country's best-kept secrets.
The programme encapsulates an era of output that defined a post-war 'golden age' of cinema in Japan and reflected the changing landscape of social culture.
Season of the Sun (Taiyô no kisetsu, 1956) was a pivotal work in Japanese cinema about love across the social divide, and marked the screen debut of Yujiro Ishihara who would become the Japanese equivalent to James Dean. He also starred as a jazz drummer embroiled in the criminal underworld in Man Who Causes a Storm (aka Stormy Man/ A Man Calles Storm, 1957) and as a pilot on a mercy mission in Crimson Wings (Kurenai no tsubasa, 1958).
As the 60s approached the influence of American and European cinema was evident – and bore little relation to contemporary Japan, with mash-ups of genres including musicals, film noir, gangster movies and even American Westerns. Monday Girl (aka Only on Mondays, 1964) is a Nouvelle Vague-style portrait of a young, cosmopolitan woman – think Godard meets Breakfast at Tiffany's – and cult classics Branded to Kill (Koroshi no rakuin, 1967) and Stray Cat Rock: Sex Hunter (Noraneko rokku: Sekkusu hanta, 1970) tell tales of a kill-or-be-killed hitman and a delinquent girl-gang, respectively, that have influenced modern directors Wong Kar-wai, John Woo and Quentin Tarantino.
Date: 1 – 30 June 2013
Venue: BFI Southbank, Belvedere Road, London SE1 8XT
Tel: 02079283232
Web: http://www.bfi.org.uk
Tickets: From £7.50 or £6 for Members
Organiser:: British Film Institute