Serpentine Gallery Pavilion 2013 – Designed by Sou Fujimoto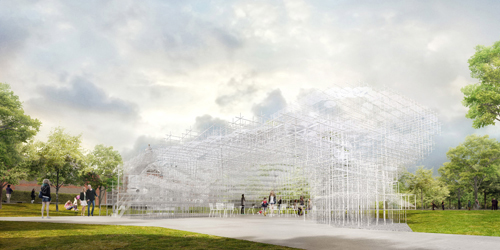 The Serpentine Gallery Pavilion 2013 will be designed by multi award-winning Japanese architect Sou Fujimoto. Widely acknowledged to be one of the most fascinating and important upcoming architects, Fujimoto is the youngest architect to accept the invitation to design the temporary structure for the Serpentine Gallery.
Fujimoto's semi-transparent, latticed structure of 20mm steel poles will occupy some 350 square-metres in Kensington Gardens in front of the Serpentine Gallery, and will be a flexible, multi-purpose social space. The structure will include a café inside and will provide a space for visitors to enter and interact with the Pavilion in a number of different ways.
Date: 8 June 2013 – 20 October 2013
Venue: Serpentine Gallery, London