Shan Hur – Tree 05: Berkeley's Tree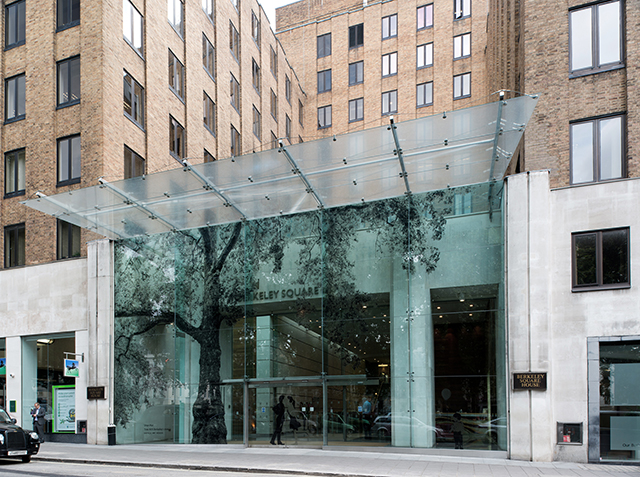 An ambitious new installation by Gazelli Art House artist Shan Hur has recently been unveiled at Berkeley Square House in Mayfair. Hur was selected to complete the work as part of their ongoing program of displaying art in and around the building. Previous participants in the project have included Niki de Saint Phalle and David Mach, but none have utilised the space in the way that Hur does. His innovative site-specific work spreads across the impressive glass façade of the building's atrium, using a transparent vinyl to superimpose a huge London plane tree onto the edifice.
Visiting the site without any preconceived ideas, Hur was struck by reflections in the glass of the trees growing in the square. He wanted to create a work which responded to the surroundings, interacting with the changing light on the building. In order to achieve this Hur used digital technology to rebuild the reflection he had caught sight of. The resulting work is both subtle in its imitation of the surroundings, but also powerful in creating a feeling of disorientation. The combination of Berkeley's Tree with the real reflections of trees growing in the square produces an illusion as to where the outside space stops and the interior begins.
Hur's practice as an artist has been dominated in the last seven years by playful interventions, prompting the viewer to question their surroundings. Taking objects and features such a trees, columns, walls and windows the artist alters their function or appearance to make us reconsider their presence. In this way Hur aims to integrate art into our day-to-day experience by changing the ways and locations in which we encounter it.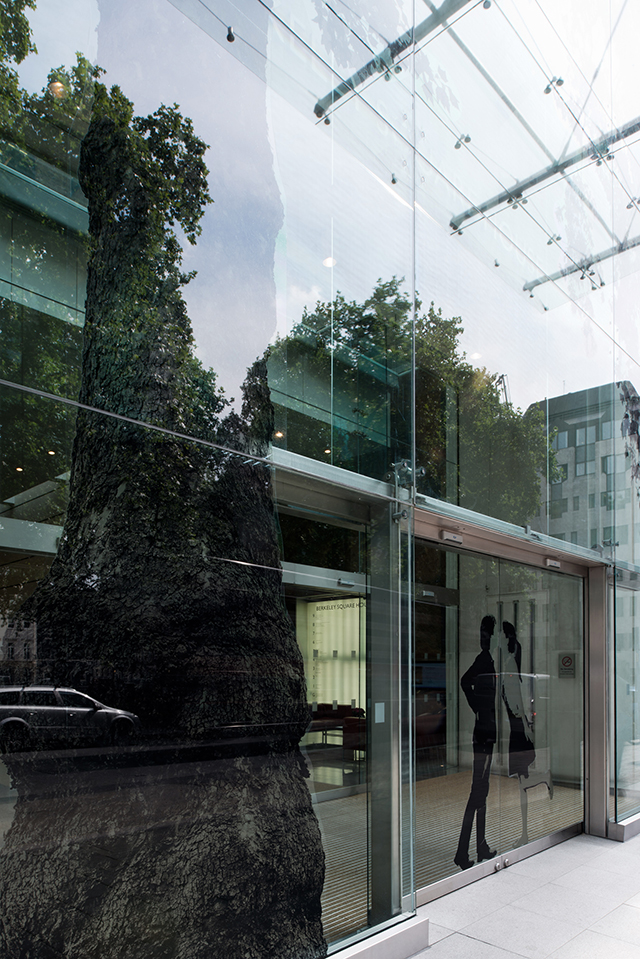 Shan Hur is a Korean artist living and working in London. He was a finalist for The Catlin Art Prize in 2011 and is one of ten recipients of the 2013: Royal British Society of Sculptors Bursary Awards. He is represented by Gazelli Art House.
Gazelli Art House opened its first permanent gallery space on Dover Street in March 2012 after hosting conceptually interlinked off-site exhibitions across London in 2011. The gallery's inaugural exhibition was entitled 'Bodhi' and consisted of new works by international artists Olympia Scarry, Jaume Plensa, Shan Hur and Khanlar Gasimov. In October 2012, the gallery re-opened its original space in Baku, Azerbaijan where it held exhibitions with Azeri artists since 2003. The direction of the gallery changed over the years, and it will now replicate the global focus of its London space by showcasing solely international artists.
Date: August 2013 – January 2014
Venue: Berkeley Square House