Shinjuku Culture in the 1960s – Talk by Go Hirasawa and Jelena Stojković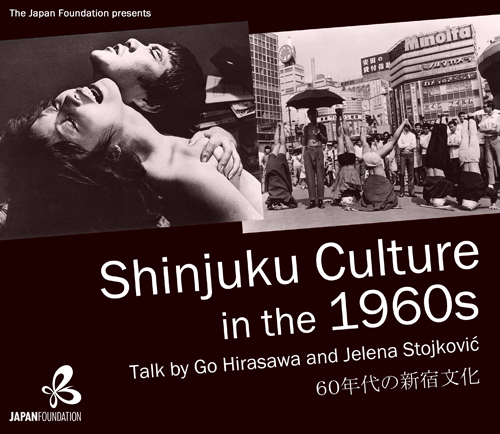 The 1960s marks a crucial turning point culturally, socially and politically. When it comes to Japan, there were lots of countercultural activities at the time in the town of Shinjuku in Tokyo. This emblematic site was a hotbed of avant-garde art, involving such artists as Nagisa Oshima, Daido Moriyama and Shuji Terayama, to name but a few.
Reflecting the current resurgence of attention towards the arts and social expression of the 1960s, as well as the attempts at their critical evaluation, this talk event will explore how the town of Shinjuku played a significant role in the birth of the new wave movement, and why it still influences and interests us today.
Go Hirasawa, researcher at Meiji Gakuin University who specialises in political cinema, will delve into the various new activities that were created for and taking place both inside and outside of the various cultural venues in Shinjuku, and will analyse the artistic expression that was produced within such a chaotic urban space in the 1960s.
Jelena Stojković, an art historian, writer and curator based in London, will examine the role of photography in 1960s Japan while introducing some of the photographic projects that evolved from the vibrant Shinjuku cultural 'scene' at that time. She will also discuss the chief practitioners, their main subjects of interest and a wide range of images that they produced.
Presenting the new cultural forms, within and across disciplines, which emerged from Shinjuku, this talk will discuss the relationship between the town, art and the expression of creativity in the 1960s in Japan.
Date: 27 October 2014 from 6.30pm
Venue: The Japan Foundation, London