Shinko Hanaoka (cello) with Yuki Negishi (piano)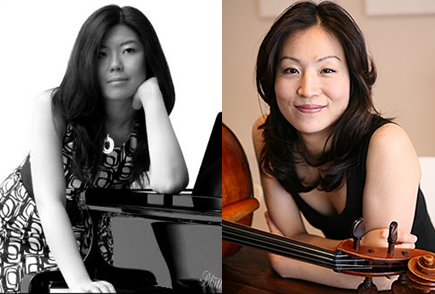 Programme
Bartok: Rhapsody No.1 for cello and piano:- Sz.88 (Lassu, Friss)
Schubert Arpeggione Sonata in A minor D.821
Allegro moderato
Adagio
Allegretto
Artist info
Shinko Hanaoka (cellist) studied at the Toho Gakuen School of Music in Tokyo, Illinois State University in the States, the Royal College of Music and the Royal Academy of Music in UK with Ko Iwasaki, Colin Carr, William Pleeth, David Strange, and Andrew Shulman. During her studies in UK, she won many prizes including the Harold Craxton Prize, Benjamin Dale Prize, Thelma & Gordon Prize and Leo Stern Award. Her former piano trio appeared on the BBC 3 Young Artists Concert Series. She is currently a member of the Royal Philharmonic Orchestra.
Born in Tokyo, Japan, Yuki Negishi started playing the piano at the age of 5 in New York City. At the age of 10, she was accepted to The Juilliard School Pre-College Division as an honorary scholarship student. Yuki has since worked with such eminent figures as the late Takahiro Sonoda, Christian Zacharias, the late Irina Zaritskaya, Dominique Merlet, Dr Peter Katin and Murray Perahia. She graduated from the Toho Gakuen School of Music, Amsterdam Conservatory, Royal College of Music (London), and is currently pursuing a doctorate at the Trinity Laban Conservatoire of Music and Dance with Douglas Finch and Dr Sophie Fuller.
In previous seasons, Yuki has been invited to perform in the UK (Leeds International Concert Series, Blackheath Halls, St James's Piccadilly, Steinway Hall, the Bluthner Lansdowne Club series, etc.), the Netherlands (Concertgebouw), France, Germany, Italy (Festival di Londra), Romania, Japan and the USA. She has performed in more than 200 concerts in the UK alone. Her performances have been broadcast on BBC Radio 3, Channel 4, Dutch, Polish, Romanian and French television and radio.
Yuki has released a solo CD, and also a DVD from Sound Techniques (www.soundtechniques.co.uk) in conversation with BBC presenter Andrew Green. Yuki was one of the jury members for the 2010 1st Sussex Int'l Piano Competition alongside such distinguished pianists as Artur Pizarro and Vanessa Latarche (RCM Head of Keyboard). She was invited as a guest jury for the Open Piano Competition (London, October 2012) and also served as a member of the jury for the 2nd Sussex Int'l Piano Competition in April 2013. Future engagements include recitals across the UK and Holland.
Date: Wed Sep 18th 2013, 1:10–2:00 pm
Venue: St. Sepulchre, the Musicians Church, Holborn Viaduct, London EC1A 2DG
Organiser: The Anglo-Japanese Society of Wessex