Shinko Hanaoka (cello) with Yuki Negishi (piano)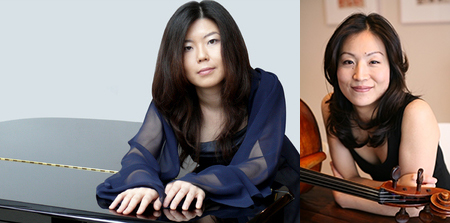 Programme:
Bartok Rhapsody No.1 for cello and piano:-
Sz.88 (Lassu, Friss)
Grieg Cello Sonata in A minor Op.36:-
Allegro agitato,
Andante molto tranquillo,
Allegro molto e marcato).
Shinko Hanaoka (cellist) studied at the Toho Gakuen School of Music in Tokyo, Illinois State University in the States, the Royal College of Music and the Royal Academy of Music in UK with Ko Iwasaki, Colin Carr, William Pleeth, David Strange, and Andrew Shulman. During her studies in UK, she won many prizes including the Harold Craxton Prize, Benjamin Dale Prize, Thelma & Gordon Prize and Leo Stern Award. Her former piano trio appeared on the BBC 3 Young Artists Concert Series. She is currently a member of the Royal Philharmonic Orchestra.
Yuki Negishi is increasingly in demand as an artist of rare poetry, intensity and virtuosity with a vast repertoire and a magnetic personality. Yuki has already performed in over 200 concerts in the UK where she has resided since 2001. Her most recent engagements included a performance of the Brahms 2nd Piano Concerto with the Scarborough Symphony Orchestra/Shaun Matthew, Rachmaninoff's 2nd Piano Concerto with the New London Sinfonia/David Gibson, Poulenc's Concerto for Two Pianos and Orchestra with the Worthing Symphony Orchestra/John Gibbons, Mozart's Piano Concerto K.488 with the Ealing Symphony Orchestra/John Gibbons, recitals across the UK (e.g. Southbank Centre) and Holland. Future engagements include numerous recitals across the UK and Europe
Yuki has released a solo CD, and also a DVD from Sound Techniques (www.soundtechniques.co.uk) in conversation with BBC presenter Andrew Green. She was a guest judge for the Open Piano Competition (London, October 2012), and was a member of the jury for the 2nd Sussex International Piano Competition (Worthing, April 2013).
Yuki is generously supported by the London Bluthner Piano Centre.
Date: Fri Jun 14th 2013, 1:10–2:00 pm
Venue: St. Sepulchre, the Musicians Church, Holborn Viaduct, London EC1A 2DG
Organiser: The Anglo-Japanese Society of Wessex