Shinya Fujii : Outsider art from Japan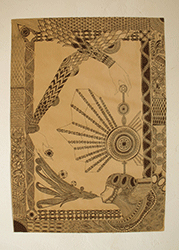 Outside In and the Julian Hartnoll Gallery are delighted to announce the opening of an exhibition of intricate ink drawings by Japanese artist Shinya Fujii at the Julian Hartnoll Gallery in London. The first time his work has been seen outside of Japan.
Shinya Fujii: Outsider art from Japanwill run from 4 – 13 September. Prices range from £200-£1350.
Date: 3 September 2015
Venue: Julian Hartnoll Gallery, 37 Duke Street, St James's, London, SW1Y 6DF
Tel: 01243 770846
E-mail: outsidein@pallant.org.uk
Web: http://www.outsidein.org.uk
Organiser: Pace London