Shojin ryori: Japanese temple cuisine, with Mari Fujii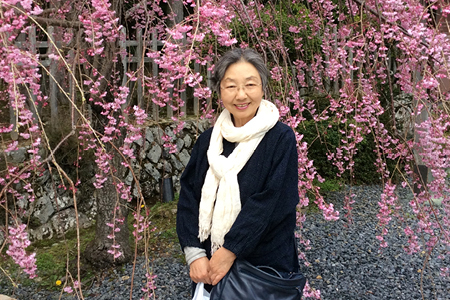 While London is home to some excellent Japanese restaurants, there are still very few opportunities to try Japanese temple cuisine, shojin ryori. We are therefore particularly delighted to welcome Mari Fujii, author of The Enlightened Kitchen, for a special lecture demonstration in which she will share her insights into this school of cooking.
Mari Fujii has made it her mission, for over thirty years, to teach shojin ryori both within Japan and overseas. This temple food is based on seasonal vegetables and staples such as grains and tofu. In her own cooking and teaching, Mari aims to convey her husband's precept 'cooking should be from the heart' by always keeping in mind the person who is going to eat while she prepares food .
Joining us for a special lecture demonstration, Mari Fujii will discuss the fundamental principles of shojin ryori and show how to make some of her favourite dishes using locally available ingredients. She wants participants to come away with a selection of recipes to try at home, and an appreciation of the aesthetic and potential of this vegetarian cuisine.
Mari Fujii learned the secrets of shojin ryori from her husband who was a Buddhist monk and served as a temple cook at three different Zen temples. Together they established Zenmi-kai in Kamakura, where they taught temple cuisine. More recently Mari Fujii has frequently travelled overseas, teaching and cooking in many countries in Asia, North America and Europe and sharing her love of good food. She has published a number of books including Kokoro ni Yasashii shojin ryori (Take Shobo, 2002), Itadakimasu (Koseishuppansha, 2006) , Kamakura Fushiki-an shojin recipes (Kawade Shoboshinsha, 2008) and, in English, the enlightened kitchen (Kodansha International, 2005).
The Japan Society is grateful to Sozai Cooking School and Atsuko Suzuki from Atsuko's Kitchen for their help in arranging this event, and to Clearspring who have supplied ingredients for this demonstration.
Date: Tuesday 7 June, 6.30pm
Venue: Sozai Cooking School, 5 Middlesex St, London E1 7AA