Shonen Knife 35th Anniversary UK and Eire 2016 tour announcement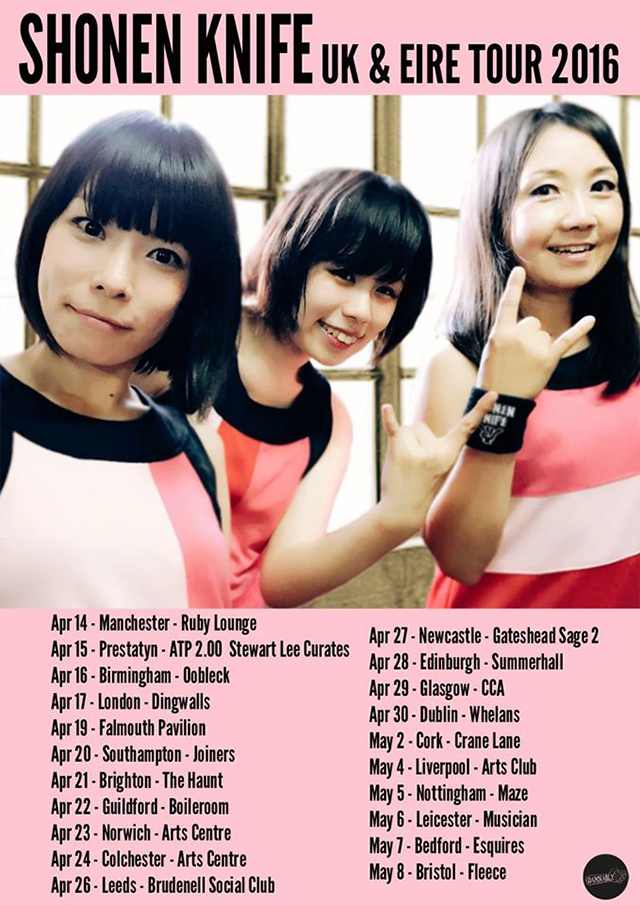 Shonen Knife, the All-Female Pop-Punk-Rock Pioneers from Osaka, Japan celebrate their 35th Anniversary and (as yet untitled) new album with their most extensive UK & Eire tour to date, brought to you by Damnably.
The trio formed in Osaka in 1981, when Naoko Yamana first heard late '70's punk-pop, particularly The Ramones. Inspired, the band crafted their own idiosyncratic songs, fashioned brightly coloured outfits and DIY albums. In 1985, K Records released 'Burning Farm' in the United States. Deals with Sub Pop and various majors followed.
They toured with Nirvana (on the 'Nevermind' tour), Sonic Youth and Breeders. they rocked Lollapalooza, Reading Festival, Roskilde Festival, Fuji Rock Festival, recorded sessions for John Peel and appeared on MTV's 'Beavis and Butt-Head' and wrote a song for The Powerpuff Girls .
More recently, Shonen Knife have: played Matt Groening's curated ATP Festival, toured the UK, Continental Europe, North America, Australia, New Zealand, China and India, played Incubate, Le Guess Who? Handmade Festival The Cathedral Quarter Arts Festival, released the critically accailmed albums Supergroup, Freetime, Osaka Ramones, Poptune and Overdrive, recorded regular BBC6 Music sessions for Marc Riley and Gideon Coe and been sited as a trailblazing influence on many of today's young female bands.
2016 will be the band's 35th year of rock and will and with no signs of slowing down, Naoko continues to say: "Let's Rock!".
The Independent (Simon Price): 8/10 "There are two types of people: those who enjoy thrashy Japanese girl-punk, and those who have something wrong with them."
Noisey: "Shonen Knife Write Sick Songs About Cats, Cookies, and Cake"
The Sunday Times ( Stewart Lee ): "…irrepressible slice of bounce-along indie-pop. Beguiling."
Shonen Knife 35th Anniversary Tour of UK & Eire
*Tickets go on sale on Thursday November 5th at 9am via
WeGotTickets SEE Tickets Gigantic Tickets Songkick TicketWeb UK Bristol Ticket Shop Resident Brighton plus some venues own box offices & internal ticket systems.
April 14th Thur Manchester – The Ruby Lounge
http://www.wegottickets.com/event/337935
April 15th Fri Prestatyn Pontin's Holiday Centre-  ATP 2.0 Spring 2016 curated by Stewart Lee
http://www.atpfestival.com/events/atp042016/view/eventinfo
April 16th Sat Birmingham – Alfie Bird & The Oobleck
https://next.fatsoma.com/alfie-bird-and-the-oobleck/2zlebvlu/shonen-knife
April 17th Sun London – Dingwalls
http://www.wegottickets.com/event/337940
April 19th Tue Falmouth – Princess Pavilion
http://www.allhailmono.com/buytickets/
April 20th Wed Southampton – The Joiners
http://joiners.vticket.co.uk/
April 21 Thur Brighton – The Haunt Brighton
http://www.wegottickets.com/event/337940
April 22 Fri Guildford – The BOILEROOM
http://www.seetickets.com/event/shonen-knife/the-boileroom/921913
April 23 Sat Norwich – Norwich Arts Centre
https://ueatickets.ticketabc.com/listings/
April 24 Sun Colchester – Colchester Arts Centre
http://www.colchesterartscentre.com/diary/
April 26 Tue Leeds – Brudenell Social Club
http://www.seetickets.com/event/shonen-knife/brudenell-social-club/923488
April 27 Wed Newcastle – Sage Gateshead 2
http://www.sagegateshead.com/whats-on-live-music-gateshead-newcastle/
April 28 Thur Edinburgh – Summerhall
http://www.summerhall.co.uk/category/events/music/
April 29 Fri Glasgow – CCA Glasgow
http://www.wegottickets.com/event/337946
April 30 Sat Dublin – Whelan's
http://www.whelanslive.com/index.php/wav-tickets/shonen-knife-tickets/
May 1 Sun Cathedral Quarter Arts Festival – Belfast
May 2 Mon Cork – Crane Lane, Cork
http://www.cranelanetheatre.ie/
May 4 Wed Liverpool –  Arts Club
http://www.ticketweb.co.uk/venue/arts-club-liverpool-tickets/ARTSCLUBJO/904?page=2
May 5 Thur Nottingham – The Maze
http://www.wegottickets.com/event/337944
May 6 Friday Leicester – The Musician Pub
http://www.seetickets.com/event/shonen-knife/the-musician/924823
May 7 Sat Bedford Bedford Esquires
http://www.seetickets.com/event/shonen-knife/bedford-esquires/922488
May 8 Sun Bristol – The Fleece Bristol
http://www.wegottickets.com/event/337943
Links
Video's