Shonen Knife 'Free Time' 30th Anniversary Tour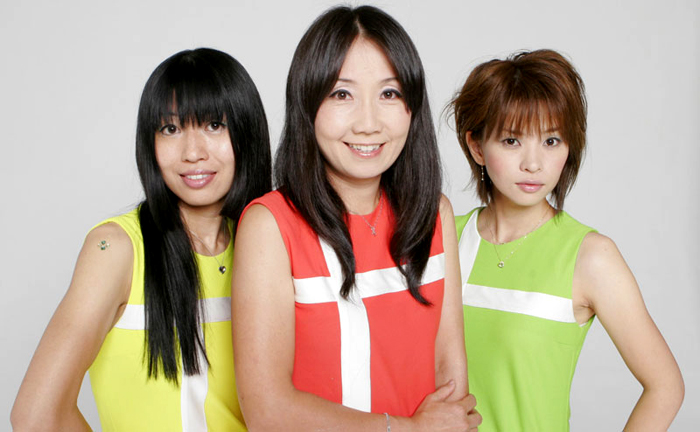 Date: 11 August – 11 September 2011
Venue: Various
E-mail: george@damnably.com
Web: http://www.damnably.com/shonen-knife/ or http://www.shonenknife.net/
Organiser: Shonen Knife
"When I finally got to see them live, I was transformed into a hysterical nine-year-old girl at a Beatles concert." Kurt Cobain
Shonen Knife are a ground-breaking all-female Japanese, pop-punk trio formed in Osaka in 1981, when Naoko first heard late '70's punk-pop particularly The Ramones. Inspired,
the band crafted their own idiosyncratic songs, fashioned brightly coloured outfits and DIY albums.
In 1985, K Records released 'Burning Farm' in the US. Deals with Sub Pop and various Majors followed. 1989 saw the crème of the alt. rock scene (including Sonic Youth, L7 and Redd Kross) covering their favourite Shonen Knife songs on the tribute album 'Every Band Has A Shonen Knife Who Loves Them'. They toured with Nirvana (on the 'Nevermind' tour), The Breeders and as part of Lollapalooza. They recorded sessions for John Peel and appeared on MTV's 'Beavis and Butthead' . Last year the band played Matt Groening's curated ATP, extensively toured the UK/Europe/North America/China and Taiwan! 2011 marks the 30th year of the band Shonen Knife and Naoko said she is ready to ROCK! We hope you will come see the band this year and soak up some magic from one of the greatest bands the world has ever seen!
Shonen Knife release 'Free Time' (their 15th album) on Damnably in June, available from Damnably via Shellshock/Ioda on CD and Digital Download in UK/Europ
Shonen Knife "Free Time" European Tour 2011
12 Aug – Summer Sundae Festival, UK
13 Aug – Deaf Institute, Manchester, UK
14 Aug – Cluny, Newcastle, UK
15 Aug – Sneaky Pete's, Edinburgh, UK
16 Aug – Nice 'N' Sleazy, Glasgow, UK
17 Aug – Blackbox, Belfast, NI
18 Aug – Roisin Dubh, Galway, IR
19 Aug – Whelans, Dublin, IR
20 Aug – The Fleece, Bristol, UK
21 Aug – Buffalo, Cardiff, UK
23 Aug – Paradiso, Amsterdam, NL
26 Aug – The Great Räng Teng Teng, Freiburg, DE
27 Aug – Atomic Cafe, Munich DE
30 Aug – Chelsea, Vienna, AT
01 Sep – Marie Antoinette, Berlin DE
02 Sep – Inkonst, Malmo, SE
03 Sep – Cafe Mono, Olso, NO
04 Sep – Bar Loose, Helsinki, FI
06 Sep – Loppen, Copenhagen, DK
07 Sep – Übel & Gefährlich, Hamburg, DE
08 Sep – dB's, Utrecht, NL
10 Sep – Bogeda Social, Nottingham, UK
11 Sep – Scala, London, UK
[pro-player width='550′ height='253′ autostart='true' type='video']http://www.youtube.com/watch?v=astKY3mmDVI[/pro-player]