Shorthand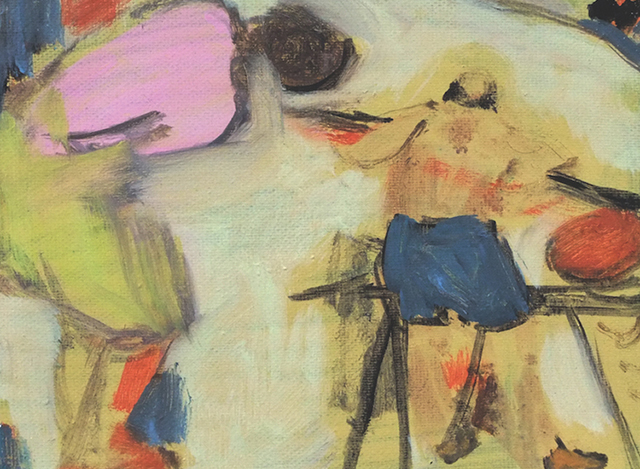 Heeseon Byun, a London-based graduate of the Royal College of Art, paints tender, abstract portraits of everyday life. Having worked with oil paint for many years, and with undergraduate and postgraduate training at both Chelsea College of the Arts and the RCA, Byun has cultivated a distinct style of dreamy, schematic portraiture.
Her work is underpinned by the desire to explore one particular question: Is it possible to visualise, through paint and portraiture, the invisible stitches that hold together the fabric of everyday experience?
Byun's paintings are snapshots of seemingly un-spectacular life, which derive from her own memories and experiences, from personal photographs, films, and from images found in magazines and daily newspapers. 'Love is Making Room for Others,' a portrait abstracted from a photograph taken by the artist, shows a woman carefully preparing trifle for a loved one. In another scene, a focused young man kneads bread in the window of a bakery, as a solitary customer looks on.
What is arresting about these images is their ability to capture and transmit an almost tactile experience of intimacy and warmth. Decadent, sweeping brushstrokes surround slight, thoughtful characters, and the viewer is tugged into the scene. Domesticity, food, sports and family life are motifs in Byun's work, and her heart-warming portraits explore how subtle, simple, and routine actions generate and reinforce powerful bonds between people.
About the artist:
After studying Theology in Seoul, Heeseon Byun relocated to London and has studied painting at Chelsea College of the Arts (BA) and at the Royal College of Art (MA). An interpreter and an art teacher, she has also devoted much of her time to voluntary and community projects in London. We are delighted to host Heeseon Byun's first solo exhibition.
Group Exhibitions:
2012: First Come First Served, Lion & Lamb, London
2010: 20/21 British Art Fair, Royal College of Art, London
2008: Start Your Collection, Contemporary Art Projects, London
2007: Drawing from Turner, Tate Britain, London
– Text by Ralph Day, Assistant Curator at MOKSPACE
Private View: 19th February 2014 @ 6.30 – 8pm
Exhibition: 13th February – 1st March 2014
Venue: MOKSPACE, 33 Museum Street, London WC1A 1LH