Shunsuke Kimura and Etsuro Ono at WOMAD Charlton Park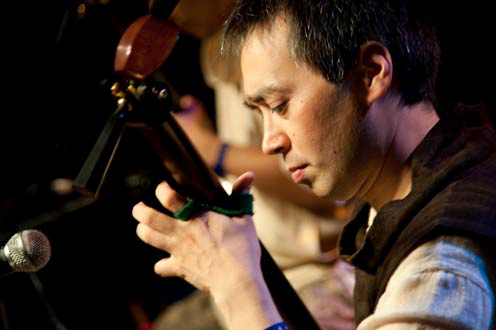 Date: 30 & 31 July 2011
Venue: WOMAD Charlton Park, Charlton Park, Malmesbury,Wiltshire, SN16 9DG
Tel: 07782343632
Email: Akiko5@btinternet.com
Web: http://www.muarts.org.uk
Organiser: mu:arts
The virtuoso players Shunsuke Kimura (Tsugaru Shamisen, Fue) and Etsuro Ono ( Tsugaru Shamisen) are powerful innovators of the Tsugaru-Shamisen and Fue. They have taken dynamic semi-improvised style from northern Japan in new contemporary directions, presenting both traditional pieces and new material which fuses original folk sound with the soul and blues rhythms of the West.
WOMAD -World of Music, Arts and Dance, co-founded by Peter Gabriel in 1982 is the internationally established Festival (www.womad.org). This year WOMAD features the duo as one of the highlight of their festival programme.
Saturday 30th July 2-3pm Charlie Gillett Stage
Sunday 31 July 1-2pm Big Red Tent
http://womad.org/festivals/charlton-park/lineup/
Kimura & Ono introduce food from Tohoku at "Taste the World" of WOMAD!
Saturday 30th July at 18.45 – 19.45 TTW Stage
Menu:
Kiriboshi Daikon & Tuna Salad (Sliced dried Radish and Tuna Salad)
Suiton (Dumpling Casserole)
Local Sake

About Taste the World
Taste the World has been an increasingly popular feature of WOMAD festivals around the world since 2005, bringing artists performing at the festival to a designated 'cookery' stage to prepare and cook a traditional dish from their country of origin, whilst in conversation with the Taste the World host. The audience are encouraged to ask questions and open up the discussion of food and music, and at the end of the session they are given a taste of the food. These encounters are a fascinating and intimate opportunity to enter into the world of the artist. The following are some of Roger de Wolf's reflections on his experience of presenting Taste the World and his engagement with artists in Australia, New Zealand, Singapore and the UK.