Silk, Porcelain and Lacquer: China and Japan and their Trade with Western Europe and the New World, 1500-1644 – Teresa Canepa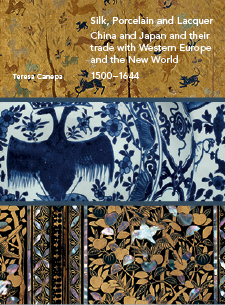 Focusing on the prolific trade, overseas transport and consumption of Chinese silk and porcelain, and Japanese lacquer between 1500 and 1644, this lecture will show how the material culture of late Ming China and Momoyama/Early Edo Japan on one side of the globe, and Western Europe and the New World on the other, became linked for the first time through an exchange of luxury Asian manufactured goods for silver.
Drawing on Teresa Canepa's multi-disciplinary research for her PhD dissertation and book, the lecture will explore the fascinating and complex commercial, cultural and artistic exchanges that occurred between the East and West in the early modern period. It will focus on the trade and consumption of three very different Asian goods: silk, porcelain and lacquer, first by the Iberian kingdoms of Portugal and Spain in the sixteenth century, and then also by the trading companies formed by the Northern Netherlands/Dutch Republic and England in the early seventeenth century. In particular, Dr Canepa will show the influence that European merchants and missionaries exerted on the goods made to order for them in both China and Japan.
Date: Monday 16 January 2017, 6.45pm
Venue: The Swedenborg Society, 20-21 Bloomsbury Way, London WC1A 2TH