SIRO-A: Japan's Answer to Blue Man Group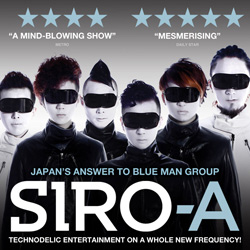 The international multi-award winning spectacular is coming back to London!
Often described as Japan's answer to the Blue Man Group, SIRO-A is a revolution in live entertainment, fusing mime, groundbreaking visual effects and an electro soundtrack to create a mind-blowing theatrical experience that is a feast for the senses.
Through dance, mime and puppetry, the company of six Siro-performers interact with technology in a way never seen before. Featuring spectacular video projection, light animation, stunning laser effects and a pulsating electro beat, SIRO-A is family entertainment like no other.
SIRO-A is fast becoming a worldwide phenomenon, having performed to 30,000 people at the Shanghai Expo and winning the Spirit of the Fringe award at the prestigious Edinburgh Festival. Now this visually stunning show is returning to London where it has already been wowing audiences and critics alike:
"It's a mind-blowing show" – METRO
"a mesmerising mix of techno, high-tech light engineering, performance art, dance, comedy, animation and futuristic shadow-puppetry" – DAILY STAR
Date: 21 August – 13 October 2013
Venue: Leicester Square Theatre, 6 Leicester Place, London WC2H 7BX
Tel: 08448 733 433
Web: www.siro-a.co.uk
Organiser: SIRO-A at Leicester Square Theatre