So-Ock Kim at Cadogan Hall in London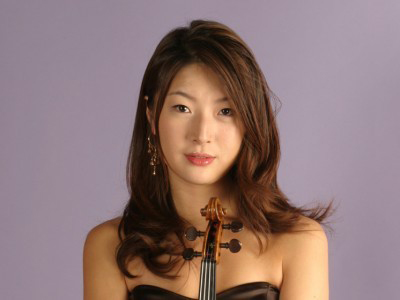 Date: Saturday 23 March 2013, 7.30pm
Venue: Cadogan Hall, 5 Sloane Terrace, London SW1X 9DQ
Web: http://www.cadoganhall.com/event/millfield-at-cadogan/
Programme:
Stewart Copeland Jumping the Rhynes (world premiere)
Antonio Vivaldi Four Seasons
W. A. Mozart Piano Quintet No. 1 in G minor
Robert Schumann Piano Quintet
Renowned UK independent school Millfield, announces an impressive music programme for 2012-2013, which will feature 'Millfield at Cadogan': a national concert on March 23rd at London's Cadogan Hall. The concert will include performances from Millfield pupils as well as distinguished violinist So-Ock Kim and a performance of a one-off piece by Old Millfieldian and ex-Police drummer, Stewart Copeland.
Millfield School is a leading independent boarding and day school in Somerset. Prominent for its academic and sporting excellence (nine of Britain's Olympians and Paralympians this 2012 were old or current Millfieldians), the school also boasts an enviable music department.
The music department offers impressive opportunities for budding young musicians, including an International Concert Series at the school, featuring such artists as clarinet virtuoso Emma Johnson MBE and the Tallis Scholars. Furthermore, the department boasts a unique collaboration with world-renowned virtuoso violinist, So-Ock Kim. Kim, whose career has seen her perform at Wigmore Hall, Royal Festival Hall and Barbican Hall, London is considered one of the leading violinists of her generation. So-Ock Kim has appeared as a soloist with the London Symphony Orchestra, the English Sinfonia, Britten Sinfonia, and the Orchestra Filharmonica di Torino.
The musical highlight of 2013 for the school will be Millfield at Cadogan, on 23rd March at Cadogan Hall, London. This concert will feature performances from So-Ock Kim and pupils of Millfield, including the school's prizewinning ensemble: The Millfield Camerata, who will perform the world-premiere of 'Jumping the Ryhnes' a piece specially written for the school by Old Millfieldian and past member of pop band, "The Police"; Stewart Copeland.
'Jumping the Ryhnes' is a relentlessly rhythmic piece for percussion ensemble and voices: marimba, vibraphone, timpani and drums combine in pulsating patterns. Over this, the voices sustain stark, open chords, evoking remembered landscapes and the composer's memory of his youth and time at the School. Copeland said of the piece:
"In the 1960s the Millfield riding school was all about polo on the Kingweston ground. But in winter other equestrian diversions were needed. Down on the flat levels, between the tors, were these irrigation ditches, called rhynes. Old Captain Hearn would have us saddle up and clop down Cow Bridge Road to the lowlands, where we would gallop across the muddy fields and tilt at the rhynes. It was terrifying but somehow fortifying to face the cold wet fear and make a very tangible leap into manhood.
Maybe it's the association with minimalism but tinkling mallets seem perfect for conjuring up a cold wet day. The interlocking ostinato patterns give a feeling of misty stasis and nothing quite says frozen ears like an icy crotale."
This concert, an inspiring amalgamation of Millfield's past and present, promises to be a delight for all who attend, presenting the best of the school's world-class music department and performers.